Cheshire Wildlife Trust is the only charity dedicated to the conservation of wildlife and wild places in the Cheshire region
Formed in 1962 by volunteers, Cheshire Wildlife Trust is one of 47 independent charities which together form the UK wide Wildlife Trust movement. The Trust benefits from the support of over 13,000 members and 500 volunteers, is governed by a 13-strong Board of Trustees and currently employs over 30 dedicated staff. We are passionate about securing a future for local wildlife on land and sea, and also work as part of the Wildlife Trust movement to influence decision making for nature at the highest level nationally.
Our work is funded mainly by our membership, donations and grants. Our wholly owned subsidiary company, Cheshire Ecological Services, delivers commercial ecological consultancy work and gifts its profits to the Trust.
As a charity, our strength lies in the support of our members, donors and volunteers. By supporting Cheshire Wildlife Trust, you can do your bit for nature in the knowledge that you are helping conserve wildlife locally, on your doorstep. Our membership not only provides financial support but also the mandate to lobby for policy change. We continually strive to grow our membership and volunteer base so that we can deliver more for nature.
Cheshire is an area of great ecological and demographic diversity, no longer recognised as a single administrative area. Our patch stretches from the Dee and Mersey estuaries of the Wirral, across the Meres and Mosses landscape of the Cheshire plain to the Pennine fringes and large urban conurbations of South Manchester, Warrington and Halton.
We want an environment where wildlife can move freely through the landscape; where wild places are valued, protected and well managed; where a healthy environment provides services to society; and where the next generation can enjoy a rich diversity of plants, animals and habitats near where they live. We cannot achieve this alone but by working with partner organisations, land managers, businesses and communities we can ensure nature's recovery.
We are striving for nature's recovery within a generation and our 2015—2020 strategy sets out our contribution to this vision over the next five years. We have already achieved great success; managing 45 nature reserves, developing seven Living Landscape schemes and engaging thousands of people annually through our education and events programmes.
Our strategy focuses our actions on the outcomes we believe will make a real and lasting difference to local wildlife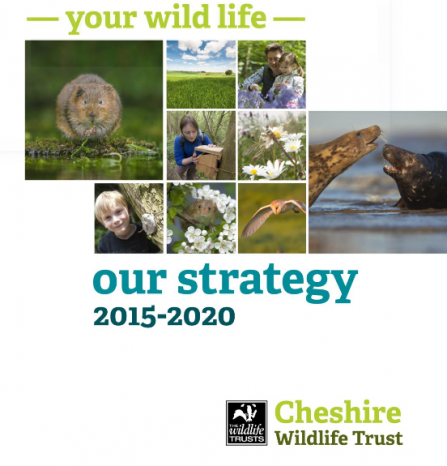 Our 2015-2020 strategy
By 2020 our work will have created more space for nature. Wildlife will be valued more highlyby local people and given greater consideration in decision making. By working locally for nature's recovery we will have inspired more people to take actionfor wildlife and secured more resourcesto deliver our vision.