About engagement volunteering:
We want wildlife to be enjoyed and valued by all and want more people to take action for wildlife. To do that we engage with thousands of people each year. We work with children, run events and training courses, give talks and host open gardens. Our engagement volunteers help us every step of the way, from administration to delivery.
You can volunteer for as little or as often as you like. We run events throughout the year in various locations across the county. Engagement volunteers help people to better understand and value the benefits we get from nature.
Please note, unless it is specified on the volunteer opportunity we are unable to accept volunteers under the age of 18.
We are recruiting....
Could you give some time to help us to deliver engagement activities to audiences of all ages?
Open Garden Coordinator in the North of Cheshire

Gardens are vital wildlife havens and bring people closer to nature. We are expanding our open garden scheme and hope that with volunteer help 2020 will be full of gardens in bloom around Cheshire. 

There are various things to consider when organising an open garden event and much of the work goes on behind the scenes. After holding a number of successful open gardens over the last few years, we have identified a need to take on a few extra pair of hands to help us prepare for 2020.

Much of the role will be working towards the open garden day, communicating with the home owner, working with our communications team to promote the event and supporting the volunteers who will be helping on the day. The roles for volunteers vary however some examples include cakes and refreshments, car parking, children's activities and gate duties. 

This is an opportunity for those great with people and/or planning, Ideally the volunteer will be local to the North boundaries of Cheshire or happy to travel to areas on the Wirral.
Talks volunteer

We are looking for volunteers to support us in the delivery of talks to the public. This opportunity can be a local one to your home area, as ideally we would like to provide talks to groups such as the WI, Scouts, U3A etc. 

You will be provided with all of the necessary training required however we would ask that you have some prior experience of, or a keen interest to develop skills relating to public speaking. 

We are hoping to arrange a get together at the end of November so get in touch soon if you are interested.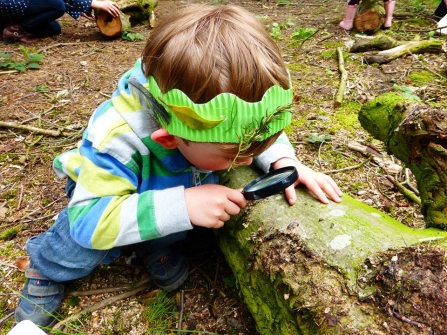 Other volunteering opportunities within Cheshire Wildlife Trust
Whilst we are not currently recruiting for these opportunities, we would still like you to know how important volunteers are to the work that we do.
Education volunteers

Our education volunteers inspire the next generation by helping to deliver outreach and educational work at Bickley Hall Farm and across Cheshire. They help supervise primary school groups during indoor and outdoor activities including pond dipping, aquatic animal identification and environmental arts and crafts. Our education volunteers also assist at public events by providing children's activities.
Volunteer coordinator support

Our volunteer coordinators help us to offer the best experience to our volunteers. From supporting new volunteers with advice and guidance, through to processing registration forms. We find that by having volunteers embedded within the team, we are able to always have the needs of the volunteers at the forefront of our work. 
Create For Nature
Office and Administration volunteers

We are lucky enough to have administration volunteers in the office 5 days a week. Our long standing volunteers and new comers, have provided the trust with continued support. By helping out with a range of tasks, to name only a few; putting together membership packs, sorting the incoming and outgoing post, answering the phone and welcoming visitors to our HQ, they have freed up the staff to continue with other vital work relating to protection of wildlife in Cheshire.
Wellbeing mentors
Cheshire Wildlife Trust local groups
Nature Tots volunteer

Nature Tots is a weekly activity session delivered by the Cheshire Wildlife Trust at various sites across our region.  Nature Tots is designed to engage young children (aged 15 months – 5 years) and their parents/guardians with the natural environment.  Sessions involve a variety of activities from nature hunts, to story time and natural art.
I like the chance to talk to people, network and have a good chinwag all while making a genuine difference.

Office and Administration volunteer