Nature Gifts - adopt a species
Order packs by 13th December 2019 for guaranteed Christmas delivery
Our species adoption packs and Give A Hog A Home packs are the perfect way to show you care for Cheshire's wildlife - a treat for yourself, or an ideal gift too!
When you buy one of our species adoption packs, you can be sure that your support is going towards giving a helping hand to some of Cheshire's rare and threatened wildlife, from the diminutive dormouse to our amazing otters - creating great places for wildlife every day.
A typical pack includes:
Your welcome letter - which can be personalised
Thank you certificate
Factfile
Postcard or template
Book or a soft toy
All presented in a box, so it's easy to wrap!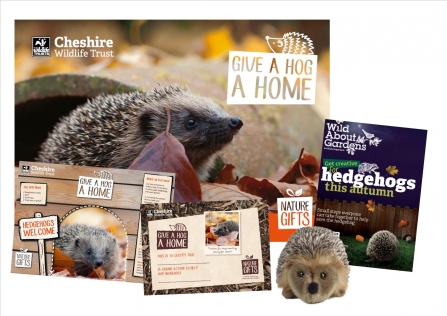 You can see the range of species for adoption below, order online to buy yours today!
Want to buy over the telephone? Call us on 01948 820728 (Mon-Fri, 9.30am-4.30pm). Your pack will be delivered within 10 working days from receipt of your order. Let us know if you need your pack delivered urgently and we will do our best to help.
Please note all costs quoted below include postage to mainland UK destinations only.  We can (and often do) post our adoption packs to destinations outside of the UK, but please contact us for a postage quote first. Box size is 31cm x 23cm x 7cm.
By purchasing your adoption pack, you are directly helping to support our conservation projects which benefit those species in Cheshire. Your funds will only spent in this region. Unfortunately we cannot dedicate an individual animal to your adoption as we work with wild species.
Give A Hog A Home - £25.00
When did you last see a hedgehog? Like other wildlife, hedgehogs are in decline through loss of suitable habitat. Want to know more about how to help our humble hedgehog? This pack gives you all the information you need to encourage our prickly friends back in to your neighbourhood.
The Give a Hog a Home pack comes with the gift of either a cuddly hedgehog or a book.
Otter - £25.00
It was only in 2011 that the otter was once again reported as back in every county in Britain, an amazing recovery that is now underway after years of battling against polluted waterways. Here in Cheshire, our conservation of rivers and wetlands within our Living Landscape schemes are benefiting otters. Infra-red cameras are now monitoring otters on our nature reserves too. Help us to continue our work on river habitats in Cheshire.
The otter adoption pack comes with the gift of either a cuddly otter or a book.
Barn Owl - £25.00
Recent reports have shown that 2013 was one of the worst years on record for nesting barn owls across the UK, with numbers in Cheshire alone dropping by more than 80% on the previous year due to poor winter and spring weather conditions. With your help, we can work with our partners to install nesting boxes for barn owls and manage hedgerows and suitable habitats for this iconic bird.
The barn owl adoption pack comes with the gift of either a cuddly owl or a book.
Dormouse - £25.00
The dormouse disappeared from our woodlands for nearly 100 years. But in 1996, Cheshire Wildlife Trust launched the Cheshire Dormouse reintroduction project, to bring our dormice back! The UK's hazel dormouse is a small nocturnal rodent, only 14cm long from the end of its nose to the tip of its tail. It spends up to ¾ of its life asleep!
The dormouse adoption pack comes with the gift of either hazelnut chocolate or a book.