School and Children's Group Nature Based Projects
Add a 'WOW' to your topic
Our proposed structure for learning through a nature based topic: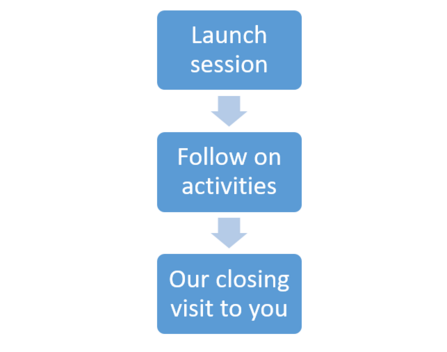 In order to thrive, nature needs school communities, like yours, to learn about it and take action to support it in the longer term.
Join other schools and children's groups, and embark on your next nature based project with the support of the Cheshire Wildlife Trust. We recommend a 3 step programme: Launch Session, Follow on Activities, then a Closing Visit.
 
A 'Launch Session' is a full day inspiring and immersing children in nature.
 
'Follow on Activities' are designed to boost your class' learning journey further, promoting greater depth of learning in a topic.
 
A 'Closing Visit' from us at the end of your topic can inspire pupils with the topic back in class, leading pupils to care for the natural world local to them, and act on it each day of their lives.
School Projects to choose from for 2021-2022
Each of the above nature based projects are adaptable to match National Curriculum objects in EYFS, KS1 or KS2.
Step 1: Launch Session

Cheshire Wildlife Trust supports schools and groups by offering environmental education sessions at a number of our sites, including your own educational setting!

Our projects can start with a 'Wow day' chosen Launch Session, delivered by a Cheshire Wildlife Trust either at one of our sites or at your educational setting. The sites where we currently offer learning experiences, as well as your own education setting, are:

Bickley Hall Farm, Malpas
Crown Farm Quarry, Delamere
Holly Bank Wood and, Ellesmere Port
Red Rock Marsh Nature Reserve, Wirral
Thurstaston, Wirral
Moore Nature Reserve, Warrington
Spud Wood, Lymm
Marbury Park, Northwich
Quinta Nature Reserve, Swettenham

Other venues will be considered on request.

If you book a Closing Visit, Cheshire Wildlife Trust will end the Launch session with a gift that relates to your Launch Session. Your gift could be the lend of night vision cameras, trees to plant, or a bug hotel kit, for example.
Follow on Activities

After the Launch Session, we will signpost you to recommended follow on activities to enhance the learning journey that has begun. These activities will be available in Spring 2022.
Closing Visit

Following a Launch Session and Follow on Activities, Cheshire Wildlife Trust supports schools and groups with delivering environmental education on your site, either in the classroom or outdoors.

Our closing visit to you can include the following:

A school assembly about the charity, local sites or wildlife
Taught curriculum linked education sessions in the classroom
Outdoor education on your school site, incl. links to English and Maths.
Launch or support an after school club
Staff training on delivering outdoor education across the curriculum
Help developing educational grounds to become more wildlife friendly.
Costs

Launch Day

For a full day session (~9:30 - ~14:30) = £300* for between 25 and 30 pupils. Additional pupils are charged at £4 per pupil.

Follow on Activities

Free access to Cheshire Wildlife Trust learning resources available online.

Closing Visit to You

For a half-day session (~9:30am to 12:30pm) = £150*

For a full-day educational visit (~9:30am to 15:30am) = £250*

After school training = £100*

*these prices are based on delivery to a class of 25 to 30 children. We aim to keep these prices up to date, however, these costs are approximate and may fluctuate on enquiry based on numbers, location and funding opportunities available.
FAQ's
How far in advance should I book?

We take bookings all year round. Some schools book 6 months in advance and others 4 weeks before. The sooner you book, the more flexible we can be with available dates and locations.
Can the sessions be altered to fit my class's needs?

The days have pre-planned lessons and objectives that can be adapted to suit the needs of your class. Please note any particular requirements in the expression of interest form and we will adapt plans where we can to meet your needs.
How many pupils can I bring?

X2 classes of approximately 30 on each booking is the maximum recommended number of pupils for each booking. Please speak to us if you have a larger group in mind.
If I book a Launch Session, do I have to book a Closing Visit?

If you only want one day with us, that's fine! The 3 step programme is aimed to have the maximum lasting impression on each pupil in order to inspire them to take action for nature following our day with you. If you book a Closing Visit, you will receive a gift relating to your nature based topic that will leave a legacy to your project, and help connect pupils with nature for the future, not just one day
What other ways can I connect pupils with the natural world?
How do I hear about funded visits?

Our Wilder Schools network exists so we can keep schools informed on fully funded opportunities as they arise. See the Wilder Schools website page for more information on how to add your school to our network.
Where can the Launch Session be held?

We can hold Launch Sessions at our reserves or at your school.
Fill in the form below to get started
In these challenging times our work will still continue to defend local wildlife
We can't do this without your support so please donate what you can.