Do something good today. Protect your local wildlife by raising money for Cheshire Wildlife Trust.
Are you planning on doing something wonderful for wildlife? Whether it's running a marathon, doing a skydive or getting sponsored for something, you can coordinate your donations using our Virgin Money Giving page. You can concentrate on the activity and we'll automatically get the funds!
Do let us know if you're planning anything as we can help you spread the word.
Whether you join one of our events or do your own thing, every penny you raise helps to protect wildlife and wild places in Cheshire for everybody to enjoy.
However you choose to support our vital work for wildlife, we're here to help. We can give you fundraising ideas, help you promote your event and make sure you have the support you need.
If you have an idea for raising money or want to take part in one of our regular events, we'd love to hear from you. Please get in touch with our fundraising team on by email or phone on 01948 820728.
2020 - the year of fundraising
There are so many ways you can put your talents to use in support of our wonderful wildlife.
Stuck for ideas? Take a look at our year of fundraising for inspiration.
January
January's a time to recover after the overindulgence of December. Do a sponsored silence, give something up or collect your small change.
February
Show off your skills by having a bake-off, opening your garden or having a plant sale.
March
Let out that inner daredevil or tick things off the bucket list by getting sponsored for a marathon, a skydive or a cycling challenge.
April
Have fun at school or work. Have a dress down day, a silly socks day or a cake sale.
May
Clear out the garage and loft and have a garage sale or head to the carboot.
June
Enjoy the summer and do something outdoors – welly wanging, sponsored walks or a tombola.
July
People love a party and a chance to get together. Host a coffee morning, an afternoon tea or a dinner party.
August
Whatever your fitness, we all have goals to be able to complete a walk, fun run or maybe even a marathon.
September
Why not organise a competition, a quiz or have a raffle?
October
It's time to party. Have a cheese and wine evening, a cocktail party or host a concert.
November
Are you fortunate enough to have everything you want? Why not ask your family and friends to give donations instead of giving presents or cards.
December
Make next year the year to remember. Why not set challenges for yourself, whether it's something you want to do something small everyday or something big at points throughout the year, get them in the calendar now.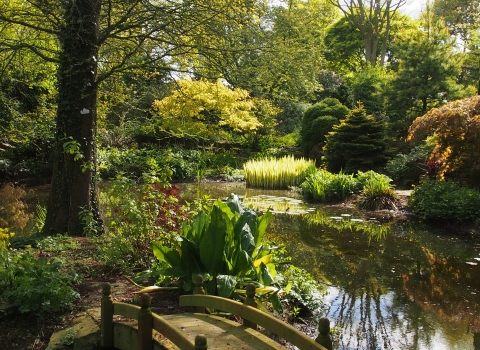 Open your garden
Many of you nurture wonderful wildlife-friendly gardens. Can you open your garden to raise some extra money for Cheshire Wildlife Trust?
You could join up with one or two others in your town, village or area. If you don't fancy opening for the public, why not invite friends and family to your own private garden party or a simple afternoon tea in your garden or backyard. We can help with invitations, publicity and tips for organising the day.
Here are just some of the gardens that open for us each year.
Clemley House

Clemley House

Sue and Tom Makin open their two-acre garden throughout the summer. At one event each year, they kindly donate the proceeds from refreshment sales to Cheshire Wildlife Trust.

"We're passionate about local wildlife so we're delighted to be able to help." Sue Makin, Clemley House
Lower Peover & Plumley

Peover garden

Several gardens in and around the villages of Lower Peover and Plumley have come together to open for Cheshire Wildlife Trust.

"It's a great way to support a wonderful local cause. We all enjoy working together to help Cheshire's wildlife." Gerald Coates, Plumley Cottage
Shop online
Did you know you can raise money for Cheshire Wildlife Trust when you shop online?
Booking a holiday? Buying new clothes? Finding a gift? you can protect your local wildlife, at no extra cost to you.
Walk for Wildlife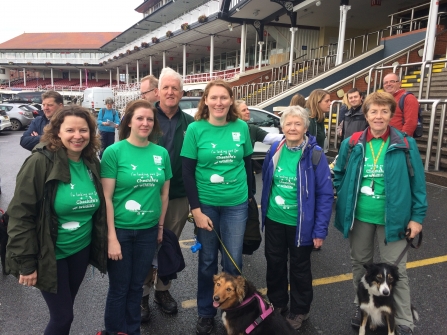 Do you fancy a leisurely six-mile stroll through woods and riverside meadows to raise money for local wildlife? Join Cheshire Wildlife Trust at Chester Business Club's annual charity walk this September.
Starting and finishing at the Riverside Innovation Centre, around 200 people enjoy this event each year. With free chocolate, tea, bacon butties and a gin and tonic to celebrate the end of the walk, it's a lovely way to spend a Sunday morning.
Please see Chester Business Club's website nearer to the time.
Sign-up for the walk and put Cheshire Wildlife Trust as your charity of choice
Get in touch for more support
Want to raise money for Cheshire Wildlife Trust? We're here to help with the fundraising ideas and support you need to protect your local wildlife.
Whether it's a sponsored run or a quiz night, we'll help you reach your fundraising goal.
What are you waiting for? Get in touch, get inspired by our fundraising ideas and do something great for local wildlife.