Upper Dane Catchment Advisor
We are working with landowners to help keep the waters of the Peak District clean.
Our Upper Dane Catchment Advisor is working with landowners to help them reduce pollution in the river Dane. Working in partnership with United Utilities, we carry out farm visits and advise landowners on how they can improve their farming practices to get the best for water, wildlife and for their businesses. We also undertake small capital projects on farms which will improve water quality.
What happens to the water?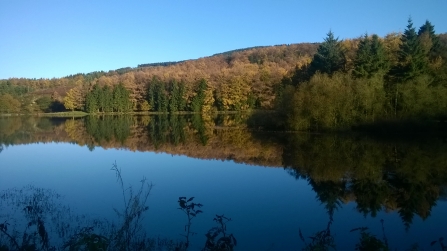 Water from the River Dane is taken from the ground at United Utilities' Hugbridge Water Treatment Works on the A523, Leek to Macclesfield Road. This abstracted river water is then treated at the works, pumped to a holding reservoir and then fed into the network supplying Congleton and surrounding villages of east Cheshire. On average the plant treats four million litres of water a day and can produce as much as eight million litres of drinking water in the same period!
The raw water supplying the works drains from the surrounding uplands, starting near the Cat and Fiddle, flowing down through the village of Wincle, where it picks up various feeder brooks and streams on the way. The total area it covers is 7,200 hectares
The River Dane is classified as a Water Safeguard Zone, however tests have detected traces of pesticides often used to tackle weeds or control slugs and snails at various feeder points along the catchment. These pesticides come from a range of sources including farms, small holdings, amenity and highways management schemes, as well as from domestic gardening.
This is where our Catchment Advisor can play a vital role in improving water quality.
What does the Catchment Advisor do?
Offers spraying equipment 'MOTs';
Offers free farm chemical disposal;
Advises on soil and nutrient management;
Incentivises alternative ways to tackle slug and snail control;
Supports woodland grant scheme applications;
Gives practical advice to improve the water environment.
Promotes the scheme and the Water Safeguard Zone
Administers the United Utilities' interventions grant scheme to deliver practical work that will improve water quality and biodiversity.
All the work is supported by United Utilities' Sustainable Catchment Management Programme (SCaMP).
Contact
To find out more about our Catchment Advisor work contact Jack Norris on 07837 465 110.