Gowy Meadows in February 2018
Our guest blogger Gowy D'Amus reports the sightings for February at Gowy Meadows.
2nd February
Beautiful cloudless skies and sunny day; virtually no wind. c.2km
A brief (one hour or so) visit to the ponds within SJ4275 again met with significant success on the wildfowl front.
On the pond nearest the road there was initially a little grebe, a handful of teal, three tufted duck and a dozen or more mallard, whilst the second hosted 11 additional tufted duck plus four snipe and two reed buntings. On the return from the second pond a goldcrest within the pyracantha bushes was a nice find but there was no repeat of the recent cetti's warbler singing despite the beautiful weather. 
Investigating the first pond further more and more duck began appearing from the reed-beds; two shoveler, two gadwall seven additional tufted duck and perhaps 20 mallard and 40 teal in total – almost 90 duck overall and probably the best showing for the area in many a long year. Ten coot and at least one moorhen completed the picture.
4th February
Sunny start then mainly overcast; wind initially from east but then went north. Cold. c.9km.
With a sunny start to the day it seemed opportune to undertake some more transect work on the reserve so without too much by way of delays I made my way to the permissive footpath parallel to the A5117 in double-quick time.
Over the following few hours I managed to work four of the five transects though the last one was hampered somewhat by disturbance caused by a couple of farmers inspecting their herd of cows. With it being a Sunday, gulls overhead were minimal, making my task a whole lot easier. In fact, just about the only species seen flying over in numbers were starlings, wood pigeons and lapwing.
Eight stonechat were shared between the four routes, and little egret was also seen on three of them, including four birds together at the south end of the main pond in SJ4373, where there was also a second winter Mediterranean gull.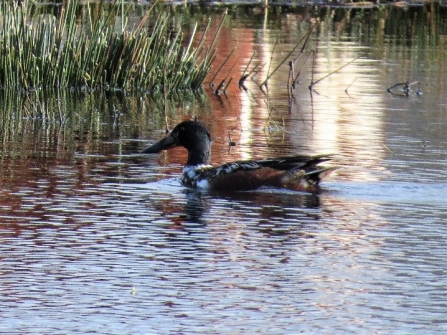 On the main pond itself, duck numbers appeared stable against a few days earlier, with 45 shoveler, 40 mallard, 20 wigeon, seven gadwall and 250 teal; at least 10 common gulls most in immaculate summer plumage were also present, feeding alongside the egrets and other small gull species on the well poached field surrounding the pond – there was even space for two pied wagtails, which are quite scarce on the reserve at any time of year.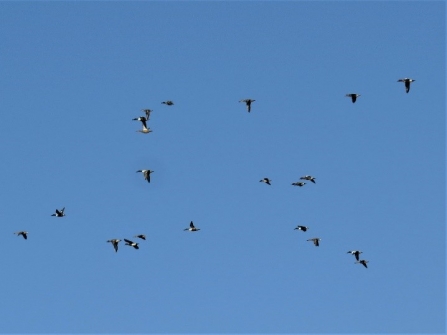 Whilst I was watching all the feasting I noticed one male shoveler that hadn't fled the scene along with the rest and also that he hadn't yet completed his moult into the spectacular plumage of all the other males…perhaps it was a younger bird.
The photograph left shows a small part of the mixed flock of wildfowl that were present, in this instance mostly shoveler but with some wigeon and teal too.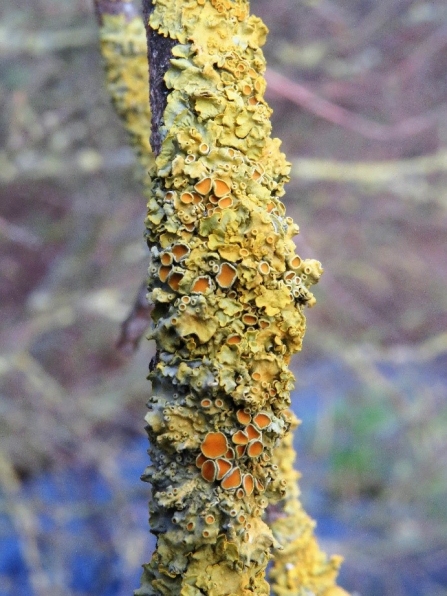 Along the final transect there was the hoped for little owl and today a blackbird was perched right next to it, letting it know in no uncertain terms what it thought about it!
Many hawthorn bushes along the lane were sporting rich growths of Xanthoria parietina, a very nice looking lichen when viewed close up.
After completing the last transect the light was already going so I made my way home, logging a small flock of 35 stock doves almost immediately after leaving the reserve but almost nothing else for the rest of the return. Nonetheless, it had been a very rewarding day with plenty of interest and three new species for the reserve year list (Mediterranean gull, pied wagtail and greenfinch).
5th February
Dull and overcast; wind in the east again. Very cold late on c.8km.
An impromptu, unplanned trip based on it not raining and that snow was forecast for the 6th. Starting out after 13:00, the primary objective was to head out to Gowy Meadows reserve and wait until dusk in the hope of finding a short-eared owl. Given that there weren't that many owls on the Dee Estuary this winter it was a long-shot but as it turned out, well worth the effort.
To have less of a wait for the right light conditions I walked to the reserve the long way around, pausing briefly at the pond in SJ4573 to note two cormorants but only around 50 wigeon… unless the other 100+ were on another pond nearby then this might be the first sign of wintering birds believing it's time to head back north; time will tell.
North of the old people's home several of the fields were bedecked with hundreds, if not thousands of gulls and it was clear to see others heading into the main pond in SJ4373 to bathe before joining the 'semi-roosting' throngs. Being so far away as to make identification of anything other than greater black-backed gulls difficult, I took a series of slightly overlapping photographs to check after returning home in the evening for something out of the ordinary. There was no sign of the little owl once again and Speckled Wood Lane was almost devoid of birds too, so I reached the main pond around 14:15 to find it quiet – there weren't even any teal calling!
For the first hour or so of the owl stake-out I positioned myself so as to be able to see the fields to the south of the main pond as there was most activity there. Certainly there was an increasing, constant procession of gulls coming in off the landfill site to join those already grounded in the fields – either directly or following a short session of bathing. Seventy-five lapwing were also on the ground and another 120 or more could be seen in the distance, probably over the fields adjacent to the motorway. On occasion the gull hosts were spooked, filling the air with noisy calls and some tremendous flocks took to the air too.
A considerable portion of them actually headed north over towards the Mersey, but it wasn't for a long time that I began thinking the numbers on the ground had actually diminished! At that time I headed further to the west to get better views of more of the reserve and began scanning for raptors and or owls on a regular basis.
On one such scan I thought I'd found a merlin sat on top of a distant fence-post so took a photograph at 1200mm zoom, a trick I frequently employ when I don't bring my scope. Looking at the image there was nothing on the post at all, so instinctively I checked with binoculars and the 'bird' was still there – I'd taken a photo of the wrong post! I quickly found the right post in the viewfinder, just in time to see a redwing land on top of what I'd taken to be the raptor!
It wasn't a merlin after all, just a different coloured post immediately behind a post on a closer fence-line – but it did look good initially! On a subsequent scan I actually saw a stonechat land on the merlin post too!
By 15:30 it had been some time since I had last felt my toes and it really had become icy cold in the light easterly winds, so much so that even with gloves on my fingers were getting iced up due to my binoculars being so cold! Scanning regularly produced a lovely fox which stayed on view for quite a while as it hunted without realising I was watching it… a raven then flew low over my head and landed on a fence-post so close to the fox it took hurried evasive action to avoid a possible collision! It then noticed me and skulked off south… just as two things happened.
Firstly there was the distinctive pig-squeal call of an unseen water rail followed by seeing two skeins of distant pink-footed geese (200 in total) heading west!
Just the 9th patch record of the rail and the 4th for Gowy Meadows, it's been a four year wait since the last record. Most of the geese subsequently turned 180 degrees and headed back north east, though never actually in reserve airspace. The pond showed an increase in Coot numbers to 15 but all the other usual suspects were either well down in number or simply staying put within cover; I favour the latter as I'd made a conscious effort not to disturb anything so close to bed-time!
With no sighting whatsoever of little egret, today became the first no-show of the species since mid-November 2017 or put another way, the first time in 20 trips I'd not recorded it. However, with having covered so little of the area whilst on my owl quest it's entirely possible there was one or more about somewhere.
In failing light, thousands more gulls began heading north, including all those previously grounded in the various fields; clearly they thought it was time to actually roost the night out so I followed their lead and cut across the reserve to Thornton-le-Moors, finding a lone Stonechat in an unusual location along the way.
On returning home there was the small matter of checking the gull photographs on the off-chance of finding something odd among the flocks.
This was an hour well spent since after only three photographs I found a 3rd winter glaucous gull  hunkered down within the hundreds of Herring and odd greater and lesser black-backs! This constituted my first personal record for the reserve, just the second ever for my local patch and intriguingly asks the question as to whether it was actually the same, returning bird seen on the landfill site in February 2017, when the one seen was aged as a 2nd winter.
Searching through all the remaining photographs revealed nothing more of note; no sign of yesterdays' Mediterranean gull nor any common gulls. Additionally, there were actually surprisingly few great black-backed. The glaucous gull is in the photograph below.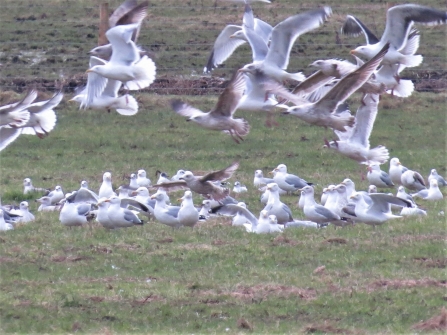 6th February
Light snow but hardly any wind. Actually warmer than the previous evening! c.7km.
Not really satisfied at having found the glaucous gull from a photograph rather than actually seeing it in the flesh as it were, I'd mentally set today aside to return to the Meadows to see if I could re-find it. So it was that, full of enthusiasm I threw the curtains back in the early morning to see that it was snowing… not much but snow nonetheless. Enthusiasm tanked instantly and I started on some moth-related work.
A couple of hours later with the snow still falling, I chose to follow my own advice to others… cold weather gets birds on the move, so, with a flask of hot Ribena and a meat pie for lunch I tooled up and headed out.
Given such a clear objective (the gull) I made my way straight there, hardly bothering to bird along the way as the snow was annoyingly coming straight into my face.
On arriving it was somewhat disappointing to see that the gull flock was miniscule compared with 20 hours earlier but on the plus side there were fewer birds to check through.
In total there was probably a thousand gulls in the field, plus 90 lapwing and a pied wagtail for good measure. To keep as much of me as warm as possible I started at the right hand end of the flock and controlled my scopes' right-to-left panning by using my already cold nose! In truth however it wasn't anything like as cold as the previous afternoon – I wasn't even wearing my gloves.
The flock was two hundred metres long and the birds about ten deep, almost all were adult herring gulls and one or two were actively catching snow-flakes, whether for fun or water I don't know. Whatever the reason one juvenile herring doing some catching made me pause long enough to see that the bird sleeping next to it was essentially white! It had to be something interesting but I couldn't be certain what until I'd seen more, which required that it woke up!
Looking at the birds close to it, I was thinking it would end up not being the glaucous, but instead an Iceland as there was practically no difference in size between it and either herring or lesser black-backed. An eternity (or so it seemed) passed slowly by and then, in unison with practically the whole flock, up popped its head – it was an Iceland gull! It did a little preening then stuffed its head back under cover again, and that was practically that.
I managed a few very bad, long distance photographs (300 metres) and on checking them determined it to have been in 3rd winter plumage.
Not evident in the photos but clear through the scope was that the bill had a black, not red tip. That plus the back feathering wasn't yet grey enough to be adult put the age at 3rd winter. Just looking at the head, the differences between glaucous and Iceland are readily seen; glaucous has a large bill and a sloping fore-headed to an otherwise large head. If it were all visible it could be seen to be the size of a great black-backed gull.
Iceland has a domed head with a much smaller, weaker bill and is a significantly smaller bird altogether. This was the 5th record of Iceland gull for my local patch and just the 2nd for Gowy Meadows, following the adult in October 2017.
As it had gone back to snoozing and with nothing else evident in the flock I felt conditions were not best suited to a picnic lunch and headed for home. In passing, a cursory glance at the little owl tree initially produced nothing - then suddenly it was there and the last birds of note were a pair of pheasants. An excellent couple of hours and it was still snowing well after I got home – though there were no signs on the ground.
7th February
Cloudy in the main but some sunny periods Icy start. Cold wind once again c.9km.
One of the good things about an overnight frost is that today's underfoot conditions turn from sloppy mud to brown concrete…and it was wonderful!
As yesterday, the main aim of today was to check out the gull flocks on the Gowy Meadows to see if anything else was among their number so once again it was a brisk walk to the eastern end of Speckled Wood Lane without much ado.
The first brief view of a nuthatch was most definitely a highlight as the species is such a scarcity on the reserve.
I headed straight to the gulls – and there were lots of them! Overhead a flock of 100 lapwings moved north and another 200 were in the same field as the gulls, to go with at least 200 more over fields alongside the motorway… the cold snap had clearly put lapwings from somewhere on the move.
I settled down to sift through the gull flock, and today was perfectly fine for a picnic lunch whilst I was in the process! My one regret was not preparing a flask of hot Ribena however as once the sun was behind clouds the temperature plummeted!
The first few passes over the gulls produced nothing whatsoever out of the ordinary and birds were to-ing and fro-ing practically all the time. Whilst munching on my piece of very nice fruitcake the first all-white gull revealed itself – though it was doing an excellent job of trying to hide (see photo below).

I watched this bird over the next 15 minutes or so and it eventually stood up and made a short walk – it had a limp plus it was an adult Iceland gull.
Clearly different to the bird of yesterday, it had no black marking on the bill-tip and its mantle was much darker grey. Once or twice the entire flock spooked into the air and whilst a good proportion returned to the same field the remainder upped and left altogether. Reduced numbers of birds to go through meant oddballs were easier to find and after one such disturbance I managed to re-find yesterday's 3rd winter Iceland and on another the presumed same adult.
Having convinced myself there was nothing else within this flock I turned and headed towards the pond, which itself was coated in bathing gulls on what little open water there was. It was quite funny to watch various species of waterfowl and gulls sliding on the ice and once or twice a gull actually broke through it, much to their shock!
I actually managed to get very close to the pond before some of the birds present shifted away in front of me but others simply carried on as if I was invisible; finding an adult yellow-legged gull among them was a very nice surprise.
Time to take stock. Clearly the icy conditions had caused many of the wildfowl previously present to move away – there were still 200 teal but very little of anything else, so I thought I'd return home, checking out the pond in SJ4573 on the way.
I noted great spotted woodpecker along the way that subsequently began drumming. Once close to the old people's home the gull flock was again visible so I had to stop and go through them again, especially as more seemed to have arrived. The photograph below shows only about a third of the flock – a flock that I couldn't find anything in!

Beyond the home, two fields were well coated in winter thrushes with 70 fieldfare and at least 100 redwing whilst the pond in SJ4573 performed really well.
Once I'd set up my scope I counted 36 greylag, six Canada and two pink-footed geese. Wigeon numbers were massively up too and were actually difficult to count as they headed from the pond directly away from me onto the field to feed. At least 300 were present, quite possibly plenty more.
Further north, closer to Elton there was another large flock of thrushes comprising 100 fieldfare and 150 redwing but the huge flock of 400 lapwing on show was an exceptional sighting for the area in winter as normally ANY would be a good record!
Though it had been an exciting day with plenty of birds, the number of species I'd recorded wasn't that many – just 35 in fact. I was mentally calculating what 'easy' ones were missing as I walked across the last field before home and three I'd thought of showed up as if by magic!
Reed bunting is something of a rarity in SJ4575, as is meadow pipit and the long-tailed tit was odd in its own right, almost flying between my legs as it exited from a low bush in someone's garden!
12th February
Lovely blue skies but with an icy start. Cold wind yet again c.9km.
Having had some pretty atrocious weather over the preceding 24 hours (lots of heavy rain, sleet, snow and hailstones!) to find clear, sunny skies this morning was an unexpected bonus. However, I had planned to go out whatever the weather in case anything had been brought in by the conditions.
Beginning at the A5117 River Gowy bridge, I headed south but there wasn't too much to see other than 75 lapwing heading north, the usual pair of stonechats and doubles of snipe and kestrel. The river itself wasn't as high as I'd anticipated either and it could only boast one moorhen!
Once south of the footbridge things perked up a little but it wasn't really until I was closer to the motorway that things took a distinct upturn. A rook of all things was a huge surprise, being just the 6th ever record, followed by three skylarks, a cormorant and an infuriating sextet of geese seen flying away into the distance. Their flight seemed more laboured than pink-feet but given they were only "lines and dots" ( -.- ) I had to be content with watching them disappear… only they didn't!
Not only did they throw a U-turn, but they came practically all the way back, pitched down to the south of the motorway and even better, one look distinctly smaller than the other five.  About the same time this was going on, the air was full of lapwings, in four discrete flocks and totalling some 850 birds in total, though almost none overflew the reserve.
I routinely scan lapwing flocks for golden plover, invariably without success and today was no exception. Then, I heard a golden plover! With the sky being entirely monochromatic pale blue it proved an impossible find so I had to be happy with a 'heard only'… briefly. I picked up my binoculars to have a scan moments later and just as they were leaving the confines of the reserve there were 12 golden plover arrowing west at head height! There is just one previous record for the reserve, that of two seen in March 2013. Four more skylarks included two which were actually singing.
I walked under the motorway to look for the geese and found them almost immediately, feeding whilst sat down in a field which also had about 1200 gulls in it; they looked to be pink-feet, so what I'd seen as smaller from a kilometre away must have been a trick of the light or something. Through the scope I began hallucinating orange bill markings but the bills didn't look that big so pinks they must have been. As I was about to make a photograph for posterity a traffic helicopter came over and annoyingly, the only birds to flush were the geese, pink feet and all.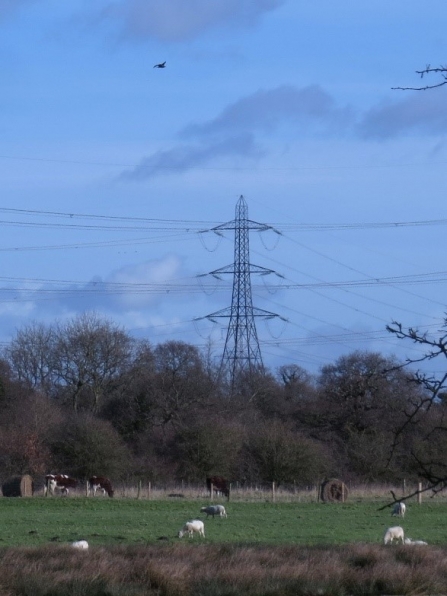 After little more than a cursory glance at the gull flock and seeing it to be too densely packed to see much beyond the first few rows I chose not to waste too much time getting colder and headed back north onto the reserve again.
Now that the overnight hailstones had all but melted away the underfoot conditions were once more just gloopy slurry – not at all pleasant but it was what it was. I chose an atypical route to get to the main pond, seeing almost 30 snipe and a rather longer view of a jack snipe than normal since it chose to flush from five metres away rather than the customary zero!
Choosing to get the sun behind me whilst lunching overlooking the pond also took me on a seldom walked route but it was successful on three counts; two stonechats, a little egret and, causing the world to explode off the pond, a fine female marsh harrier. Choosing to watch rather than photograph was a costly mistake as I managed just one awful image (right) before she disappeared from view. I shrugged this off thinking a speedy return to wreak more havoc was inevitable – only she never did!
Lunchtime was spent unsuccessfully checking male teal for the presence of a vertical white band behind the chest as opposed to the traditional horizontal white line along the body – one can only hope that a green-winged teal will turn up one day!
Two adult mute swans have finally found the pond after spending the previous two weeks on sundry narrow ditches so maybe they will find it to their liking and breed on it this year.  Other than these, shoveler had further reduced to 15, gadwall to five and wigeon to just three, though others may have been present before the arrival of the harrier.
I'd thought Speckled Wood Lane was due something good, so approached with high hopes. At half way and having seen nothing at all I was abruptly brought to a halt by the unmistakable call of a chiffchaff but with the sun directly in my eyes I couldn't locate it before it moved away; nonetheless a very nice winter record that turned out to be the first ever for February and one which completed the set of all 12 months it's been seen on reserve!
A jay moaned as only they can and a close raven croaked away before my attention was next drawn to lots of movement at the end of the lane. Something or someone was spooking chaffinches from out of the field opposite ONTO the reserve for a change and as I got close enough to do a count there were 200 birds involved; a sizeable flock for the reserve and all being overseen by the little owl! The culprit however was the day's fourth kestrel.
Other than another nuthatch adjacent to Thornton-le-Moors wood, there was nothing else; however, plenty of house sparrows and a few collared doves in the village brought the day list to a respectable 50.
15th February
Lovely blue skies but with a cool start. Westerly wind reached almost gale force near midday c.9km.
The day began brightly enough when a great spotted woodpecker flew directly over the house first thing in the morning; sadly, with one or two possible contenders, this proved to be the highlight of the day!
The opportunity to kick proceedings off in the extreme south-west of my patch couldn't be missed and so it was that for the first time in quite a while I found myself walking "Tree Sparrow Lane" in SJ4372. Having done that and seen nothing whatsoever worthy of writing down in my notebook I was left pondering the worth of heading to the landfill site to give the gulls a going over.
There were clearly thousands of gulls present but where they were feeding meant that my only chance of finding anything amongst them would be through looking directly into the sun – not much of a plan, so after finally noting 75 lapwing and a nice male stonechat I headed north under the motorway and onto the reserve.
Checking the river before breaking from cover accounted for little grebe and shortly after that there were four teal and 100 lapwing actually on the ground…then, after three skylarks there was to be another lengthy period during which time there was again nothing at all – apart from the inevitable gulls overhead. crossing over the middle of the reserve did account for 10 snipe but no jack snipe this time; two mute swans were again at the southern end of the main north-south ditch and to clarify what I'd previously taken to be the same two birds meandering around the reserve there were two more on the main pond!
No sooner had I registered these birds the whole world took to the air and this time I was onto the female marsh harrier almost immediately, obtaining longer views and a marginally better photograph!
In a repeat performance of the previous sighting, she headed south, disappeared behind the hedge I was alongside and was never seen again!
Wildfowl numbers were on or about exactly the same number also, though on two occasions there were 75 Teal way off in the distance – possibly off the pond on the outskirts of the refinery or on the river within it. Either way, I suspected it to be a record count for that particular tetrad (SJ47H). Whilst following this flock around there was an equally distant, chance encounter with a peregrine, the only species seen during the day that was new for the year.
Now that the sun had moved around, checking for unusual gulls in the two substantial flocks preening, bathing and snoozing to the south of the main pond was possible, so after putting up a jack snipe from the west side of the pond I made my way around to them, taking plenty of time so as not to spook them. Rather atypically I actually managed NOT to put them all up despite being no further than 100 metres distant by the time I set up my scope.
Two things became clear almost immediately: first, roughly half the number of birds present were black headed gulls and second, apart from the five commoner species there was nothing else! Interestingly there had been a significant increase in the number of black-headed gulls now sporting complete hoods and many more were getting there too. Possibly as much as 50% of those present were no longer in full winter plumage. Many birds were also having a really good time washing in one of the rainwater generated ponds…
After an hour of checking through these flocks something spooked everything (perhaps the returning harrier that I didn't see). Amid the ensuing chaos, an unprecedented 20 pied wagtails headed south past me and began feeding in the field and another stonechat turned up.  Whatever the reason for the mayhem I was glad for it as the wind was actually howling now and even standing still was a tricky ask let along trying to find anything unusual through the scope!…time to call it a day.
Specked Wood Lane hosted a fair few thrushes, which I seemed happy enough to be chivied along in front of me; the 75 redwing and 10 blackbirds were, however, outshone by the four jays. No little owl but the field opposite the end of the lane was again bedecked with 300 chaffinches and 20+ stock doves; the day ended reasonably with a lovely close goldcrest in the grounds of Holy Bank House.
16th February
Lovely blue skies initially with only light breeze from time to time. c.10km.
Another superb day weather-wise so nothing else to do but get out there and see what could be found; it had that good feeling about it too.
Cryer's Lane was uneventful but for a constant trickle of fieldfares west but only 50 birds in total so the best record was of 120 lapwing, presumably residue from the recent larger flock. The pond in SJ4573 was once more impressive with plenty of activity surrounding 40 greylags, 14 canadas, four pink-feet and at least 300 wigeon.
Ten pied wagtails had finally found the increasing muddy edge to the pond too. For reasons passing understanding I chose next to head east along Hob Lane. Just why I should have felt this to be a good idea is up for question since surely all the interest from the area had already been seen around the pond. Nonetheless, and with an immediate bullfinch it suddenly didn't seem such a bad move!
A few redwings were in the roadside hedges, as were a nice trio of long-tailed tits but rook stole the passerine show with a startling 210 being present. This location is close to the only known rookery in the area so that's perhaps not surprising but as it only comprises 10-12 pairs at most the majority of the flock were clearly from elsewhere. Equally surprising, this sort of number usually winters just to the south of Elton, where they have been very rare of late. I wondered why they had moved away but then realised it might have been down to the large influx of jackdaws this winter making food scarcer…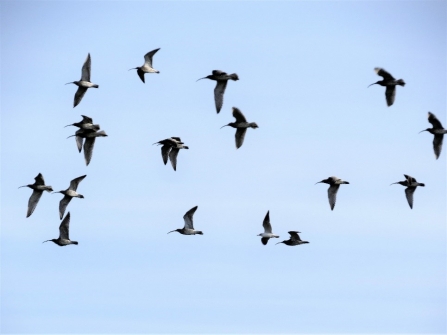 In the most easterly fields I decided to check the ponds held more wigeon (60), canadas (nine) and greylags (3) and a very nice flock of 60 curlew that took to the air, landed again and then took off once more to head in the direction of the first pond I'd looked at.
Proving the point that it's always worth checking flocks for oddballs, a black-headed gull failed to hide itself amongst the curlew! I was also pleased with the photograph below, taken through the hedge!
Retracing my steps back west, the only different species seen was a nuthatch, speeding its way towards a feeding station at ankle height!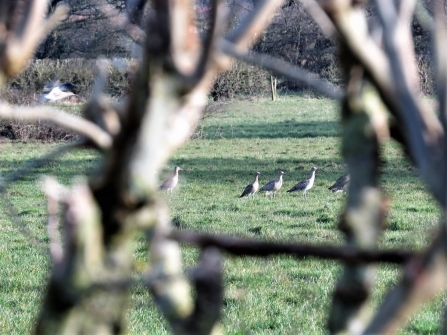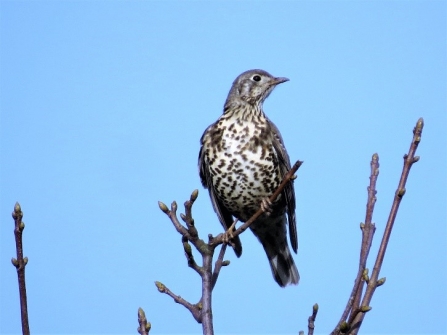 Prior to reaching the old people's home, the roadside flock of winter thrushes comprise 85 fieldfare but just 10 redwings and a mistle thrush for good measure. The latter proved to be the most skittish and took flight to a tree on the other side of the road. I disregarded it but after walking another 100 metres saw it was still sat there so I decided to try for a photo… stealth mode isn't easy when there's no cover so I made it to about 30 metres before giving it a go; it's not a species I get many opportunities to photograph and I'm pleased with the results as for one it shows the pale tail tips so obvious when they are flying away.
I spent five minutes making pictures then put the camera away and continued walking…unbelievably the beast didn't move a muscle as I passed directly underneath it! Doubtless had I stopped it would have been away in two shakes but that's not the point!
More thrushes were in fields north of the home but sadly what few gulls there were were some way off and I didn't have the enthusiasm to sift through them at 500 metres range in the hope of finding something different. I decided to move into the reserve along Speckled Wood Lane (birdless) and to see if the gulls had moved position by the time I got to the main pond… they hadn't and a sparrowhawk put them all off in any case.
I ended up transecting along my least favourite route – that which follows Thornton Brook. Even the cormorant couldn't be counted as I saw it just before beginning! It was truly awful and little more than a walk but that's how it can be sometimes and you just have to get on with it.
In total I managed 14 species over the 30 minutes it took me to walk the route, including three stonechats and two kestrels. Shortly after finishing I thought I should have designed it better, so as to make it a little longer so as to include the lane back into Thornton-le-Moors, which was actually quite busy with commoner species and the standout bird being another wintering chiffchaff.
20th February
Cloudy skies but stiff, cold breeze brought frequent sunny spells. c.10km.
Through the window I'd been duped by apparently nice weather thanks to the mainly blue skies but the underlying problem was that of a stiff breeze which was also seriously cold since it was out of the north. Nonetheless there was the small matter of trying to find partridge for the year so, nothing ventured, nothing gained!
Starting along the lane to the north of the sewage works was interesting insofar as many of the rhododendrons were now in full bud and on the birding front there were singles of both coal tit and goldcrest. This 150 metres of practical nothingness is actually the best place on my entire patch for consistently turning up both species!
Interestingly, exactly half of the 20 mallard seen looked to be paired. Moving south along the canal produced little save for six coot, 10 lapwing and three bullfinches together (including one lovely male) so my partridge quest was once more unsuccessful.
Lesser whitethroat lane was empty for once so it wasn't until I'd reached the reserve that pencil once again met with notebook, having to log 30 fieldfare.
The main part of the reserve was also extremely quiet but given that I wasn't particularly enjoying the cold wind it was perhaps understandable. There were odd buzzards, a particularly dark kestrel and three skylarks but that was just about it until I reached the main pond. Two ravens flew close by and a cormorant (the first on the pond for perhaps a year) were nice and with the sun behind me all the duck looked stunning. Most obvious were the 30 (mostly male) shoveler but there were four times as many teal and a pair of gadwall.  Looking northwest along the length of the pond gave opportunity to photograph the recent rush topping, courtesy of hungry moos; brilliant job they've done.
In the absence of anything to keep me, by midday it was time to call it a day so I headed back east along Speckled Wood Lane, seeing nothing other than the little owl on its usual perch. Once out onto the road there was an immediate female kestrel gliding past (one of two eventually) and another raptor seemingly doing the same but more distantly. Through binoculars it was merely a line and a dot so size was difficult to judge despite it not feeling like it would end up being a kestrel.
The glide continued and then it banked to reveal itself as a nice male peregrine, perhaps one of the potential breeding pair within the refinery… only time will tell. The final sighting of note concerned my first bumblebee of the year at Holly Bank House; a queen Bombus terrestris.
23rd February
Essentially cloudless skies but cold breeze. Frost overnight. c.10km.
Today's goal was to try and see kingfisher but unfortunately without any success so it's already looking like it may be a tricky find this year, along with green sandpiper and short-eared owl…
Walking south along the River Gowy from the A5117, I flushed a snipe from the first field, which has been devoid of them for quite some time so I headed off into it, crunching my way through ice caused by the overnight frost.
The two wintering stonechats duly showed up, so to a singing skylark and then snipe after snipe push out of the rush at practically every step – or at least that's how it felt! After one field the count was 25 and after two, 47 plus a jack snipe.
Given these returns I thought a complete criss-crossing of the reserve was to be the order of the day as clearly there had been some new arrivals. However, fields three and four produced just eight more snipe between them and the next two just four between them, so I opted out of yomping all over the place – not just because of no snipe but also because I was getting fed up of listening to the sound of Rice Krispies being stomped on! It wasn't until I was leaving the reserve a couple of hours after giving up that my footfalls were difficult to hear…
I'd seen a cormorant and many gulls flying into the main pond in SJ4373 so was happy enough that it was open water and not the sheet of ice I'd originally thought it would be. Duck numbers showed no change save for micro increases in gadwall and the return of the pair of wigeon which I've taken to be wintering, as opposed to the larger numbers sometimes seen which I'd theorised were all resulting from hard-weather movements. The pond was a picture, bedecked as it was in teal, shoveler and gadwall,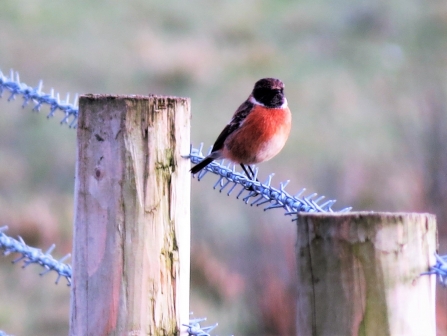 Starlings were also commoner than of late with perhaps 2,000 on the reserve and whilst scanning around I also noticed another 1,000 'balled up' courtesy of an attendant female sparrowhawk and another 750 intermingling with 90 lapwings.
With thousands of gulls also in the air at several points, the overall spectacle was very impressive. However, the underlying experience was of there not being too much about and not to put too fine a point on it, the wind was cutting me in half… I really regretted not putting my Rohan Winter Baggies on; my upper legs were freezing!
Another nice concentration however was of stonechat; nine on the day was as many as there has been for a long time and I was forcibly reminded of my question to self; "what on earth are they all feeding on!"? One particularly bonny looking male stayed put and close enough to allow a few photographs.
24th February
A little more cloud and a lot more icy wind, but no frost overnight. c.9km.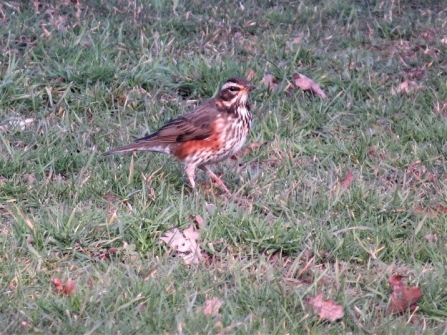 There's definitely a need for a change in the weather now that spring seems just around the corner. It's been samey for a couple of weeks now and the fields are starting to dry a little as water levels gradually recede.
Further, I could do with a day when I am not wearing wellies! Ince Lane was quiet once more apart from a few fieldfares and after an hour the notebook had hardly seen light of day. The pond in SJ4573 was atypically short on interest despite 60 wigeon so I chose to try Hob Lane as it had produced the goods last time I was there. Along the way there one field in particular was coated in winter thrushes; 150 fieldfare and 25 redwing, some starting to acquire summer livery.
Hob Lane itself turned out to be good without being brilliant; two more ponds held 50-odd wigeon each and there were 30 curlew and five long-tailed tits for good measure. It was on the return leg that it dawned on me that there were plenty of blackbirds about, 15 along the lane and another 20 by the time I'd reached the old people's home. The day total must have been around 60.
Overlooking the reserve from the road once north of the home there were more thrushes but precious few gulls. Had I not spent a few minutes watching however I'd never have seen the Little Egret which suddenly appeared from out of a ditch, wandered along its bank for 20 metres and then disappeared again!
Luck was against me at the little owl tree as initially I felt it wasn't there – at least not on its usual perch. Then a few redwing flushed out of the field and thanks to them a blackbird went berserk as it left the scene too… which in turn caused the owl to depart. After deciding not to do the Speckled Wood Lane transect it suddenly livened itself up though without producing much apart from raucous jays and a hundred or more thrushes alongside the commoner residents.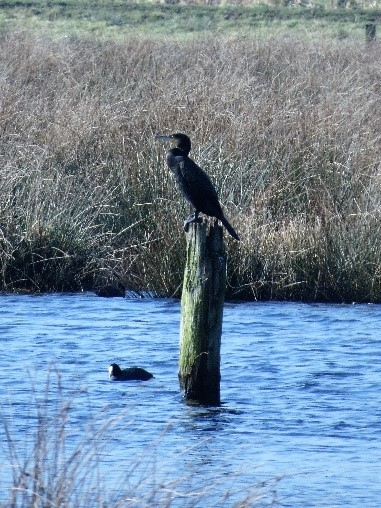 I'd already noticed from the overlook point that there wasn't a single duck at the southern end of the main pond in SJ4373 and having entered the fields confirmed there wasn't much at the northern end either! Clearly there had been some form of disturbance recently and virtually everything had cleared off; I suspected the harrier though I didn't see it.
I chose to stay a while at the pond to see if anything returned and sure enough, after about 20 minutes firstly some and eventually 140 teal came back, dragging with them 20 shoveler. I then noticed two mute swans in the rushes and a little grebe started trilling, so gradually at least things were getting back to normal.
One of two cormorants present was confiding enough to allow its photo to be taken; something of a rarity as they usually don't tolerate close approach. As I continued heading around the pond at a distance which everything present was comfortable with I next noticed a lone duck in the air and was immediately taken by its 'lengthy' appearance; sure enough, a lovely male pintail and perhaps the bird present off and on throughout the winter, who knows.
Apart from four stonechats, the dunnock seen right in the middle of the reserve actually stole the show! Six stock doves and two song thrushes were the last birds to make the notebook other than the heard-only chiffchaff that could have been the same bird as a week ago.
Once again the walk along the A5117 home was eventless so I spent the time calculating that I'd somehow managed to record over 50 species again despite only seeing one species of finch!
26th February
Horrible easterly, icy wind, with a little snow in the air for most of the morning. c.9km.
A day full of surprises, some good and others not, beginning with the fact that there was no overnight frost – at least at home.
First birds of the day were all ravens, with three heading north almost over the house. Kingfisher was once more the hoped for gap-filling species but they resolutely refuse to be at the same place as me so far this year.
There was however a repeat performance from snipe, with the three northern-most fields accounting for a creditable 130 and the remainder of the reserve another 20 for a grand total of 150 – the 3rd highest day total ever. Whilst covering the remainder of the reserve and with diminishing returns it finally dawned on me why the northern fields were hosting the majority of the birds – they were simply much wetter. Even though the water present had an ice topping snipe clearly didn't care and their poop was everywhere. The further south – almost no standing water now and no snipe either.
Snipe apart, there were very few birds, just a few lapwing – perhaps 100 in total, not quite a handful of meadow pipits and much reduced numbers of thrushes; I could only find one stonechat too. In truth, there were surprising numbers of wrens flitting about in the rush clumps and one or two even having a bit of territorial dispute. It's been interesting to see just what is feeding in even the most dense patches of rush over the last few days; plenty of redwing and fieldfare, lots of blackbirds a few song thrushes, dunnock and now wrens… few snipe choose these areas.
Wandering south, the river once again held more duck than is the norm, perhaps because earlier in the day the main ponds were frozen over but either way there were 30 teal and 14 mallard accompanied by two mute swans.
From the riverbank I'd already noticed that there was again plenty of gull activity on and over the main pond as well as the adjacent fields – in fact there was a sizeable flock and I instantly regretted not bringing my scope along, moreso as I somehow managed to get quite close to the roosting birds despite being in full view on my approach to them. The flock had an odd constitution today; being mainly herring (3000) wasn't a huge surprise 1000 black-headed was the 5th highest total on the reserve ever and there were many more lesser black-backed around, 175 also being a very decent count. In fact, outside of the species' migration period in late March and April it was the highest ever day count.
Using an atypical route to get close to the gulls (for shelter from the killing wind as much as anything else!) produced a mildly surprising jay record and a very surprising bullfinch; the latter being practically unknown on the wide open spaces of the reserve.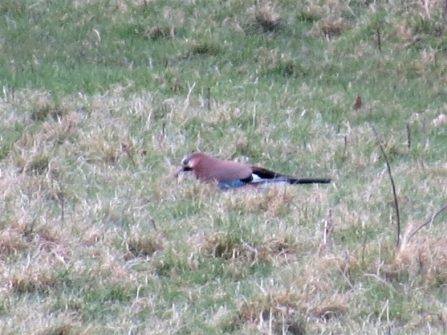 A cursory glance over the main pond spoke of nothing much different to recent days so after sifting through 1000 starlings for 31 fieldfare I headed for home. Even my camera had turned my fingers to icicles – and it hadn't been exposed to the easterly wind at all!
Speckled Wood Lane conjured up a male pheasant plus two jays, which I later saw whilst walking along the road back north into Thornton-le-Moors, managing to take one terrible photograph at 150 metres range – I don't get that many chances to photograph jays, hence the attempt!
It's now been several trips since I've managed to see anything new for the year; the price to pay following such a remarkable start to the year.
28th February
Nasty easterly wind; very cold and one 10 minute blizzard was fun! c.7km.
Today was just a wander with no fixed agenda other than to see the state of the reserve and if anything had been brought in by the cold snap… or had left!
There were plenty of noisy jackdaws along Speckled Wood Lane, perhaps 50 in all matched the number of redwings.
Two jays were no less noisy and a snipe in the lane-side ditch was a little clue that something might have been going on. On cold days with iced up ponds I make a point of taking whatever ice has formed on water butts where there are livestock in the same fields… so today I did as normal and applied my welly to the ice with some force behind it – nothing happened! After two more attempts I finally broke through and estimated the thickness as about three centimetres! The chunks I removed from the surface thereafter didn't even shatter when they hit the ground.
Job done I wasn't surprised to find the main pond some 70% covered in ice and the remainder coated in assorted wildfowl and coot. However I was 'with scope' so continued beyond the pond to look for gulls – though I think I'd already worked out that there would be none as their washing puddles would for sure also be ice-blocks, and so it turned out. There were a few lapwing hunkered down and some more passing overhead for a total of 50 but there wasn't a gull in sight, so back to the pond, the entire southern end of which was totally frozen.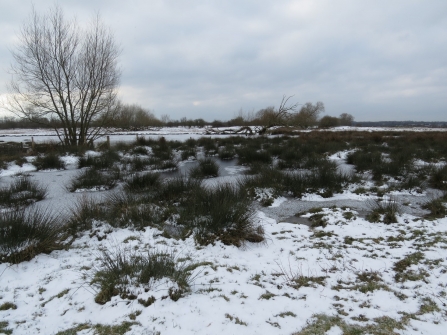 Even the water theoretically coming from the pumping station into the ditch was frozen, which made for a seriously good stalactite.
I'd not been the reason for the duck taking to the air several times as I moved around as I was certainly too far away to have been the cause. Nothing obvious showed up to announce itself as the culprit so I blamed the biggest thing on view…a very innocent looking heron! Whatever the cause, it did produce some wonderful views of duck in flight and it was immediately clear that a lot of wigeon had come in – at least 70 circled several times before heading off to the pond in SJ4573 about a mile away.
Wigeon were not the only species showing an increase either as at least 40 shoveler, some in the air some perhaps stuck to the ice were also present, along with 160 teal, just 20 mallard and five gadwall. Counting coot came next to the fore as Chris Meredith from Cheshire Wildlife Trust had made a count of 30 when the pond was last ice-topped; the record day count…which was equalled today!
I made two counts of 30 but couldn't get beyond despite many more tries. In truth, I never got close to 30 ever again as once I'd decided to get closer some clearly opted to get into cover. More than 20 did however suffer me getting to within 50 metres, as did some of the duck so I theorised they just couldn't be bothered flying around in the cold; I could understand that.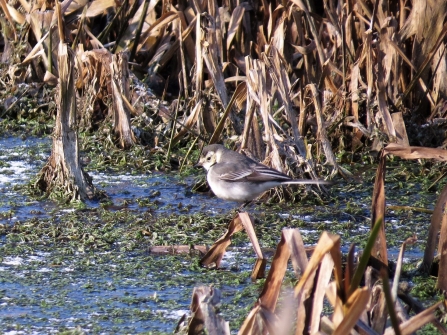 I'd already seen two pied wagtails but a third was feeding on the iced up ditch I was walking along and allowed me the rare opportunity on the reserve to actually photograph it; it's quite a rarity despite there having been a few around over the preceding fortnight. The narrow band of white above the bill indicated it to be a juvenile, as does the feint yellowy tinge to the cheeks.
The prospect of yomping all the way to the landfill site didn't fill me with enthusiasm so the clouds of gulls would have to wait for another day. Instead, and having noticed a little egret fly into a ditch, I knew would be ice-free, I opted to walk along the river bank and see what that held.
Crossing over the centre of the reserve produced absolutely NOTHING, which quite pleased me as it meant I didn't have to do another snipe count! As soon as I got to the river a pair of mallard took their leave and I chose to record every species I saw either on the river itself or on its bank. It wasn't a designated transect survey per se since I hadn't started from and end but the middle; it was just an exercise in what I could find along ice free water.
All in all, it was brilliant! Just a round dozen species along the kilometre of bank but including some nice finds during what had turned into a blizzard comprising horizontal snow! The full list in chronological order was: four mallard, 60 teal, two wrens, a blackbird, two song thrushes, a goldfinch, 24 snipe, one stonechat, two jack snipe, one moorhen, 12 lapwings and 14 fieldfare. After which I saw nothing else and February was suddenly over for another year.
Totting up once back home I determined that I'd recorded 63 species on Gowy Meadows during the month and 72 on my local patch, bringing the respective year totals to creditable 68 and 85 respectively.