This April, nature enthusiasts are being asked to join international efforts to find and document the wildlife living in cities by taking part in the 5th international City Nature Challenge.
The City Nature Challenge is organised by the Natural History Museum of Los Angeles County and San Francisco's California Academy of Sciences. It is a bioblitz-style citizen science competition designed to get people involved in wildlife recording. Between the 24th and 27th April 2020, more than 160 cities will be competing with each other in the Challenge to see who can make the most observations of nature, find the most species and get the most people involved.
Recording wildlife is vital in efforts to protect nature. Observations show us where wildlife is thriving or struggling in an ever changing landscape and this information helps policy makers, scientists, planners and conservationists to make informed decisions when it comes to protecting nature.
How to get involved
There are many ways you can get involved and support your local region. You can attend an event near you, or go out in search of wildlife by yourself, with family, colleagues or a group of friends. You could even set up your own recording event over the weekend, as well as encourage other people to get involved by shouting about the City Nature Challenge on social media. All you need is a smartphone.
How to make a record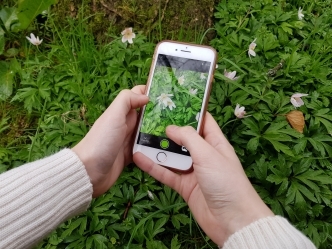 Whether you're a seasoned recorder or a complete newbie, taking part in the City Nature Challenge is made simple and straightforward using iNaturalist. This user-friendly app allows you to upload photos of wildlife you've taken on your phone with the location and date the image was taken and that's it, you've got a wildlife record.
Even if you don't know the name of the wildlife you've snapped, be it plant, fungi, shell or animal, iNaturalist will compare your photo to others that are similar in its records and offer you suggestions of what your discovery is.
Watch the video below for a demonstration in action.
In these challenging times our work will still continue to defend local wildlife
We can't do this without your support so please donate what you can.