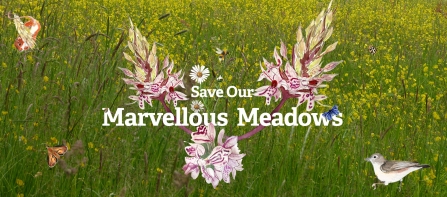 Meadows Appeal
On warm sunny days, meadows are a tranquil riot of noise, colour and smells, with hundreds of insects and birds buzzing, humming and chirruping amongst the wildflowers. Iridescent green beetles, spring-loaded grasshoppers and the delicate scent of buttercups and cuckoo flowers – our meadows are truly marvellous!
However, our meadows are under threat.
Changes in farming practices and a lack of awareness around the importance of grasslands has resulted in the loss of 99% of our region's important habitat, in just 60 years. Not surprisingly, many grassland specialist pollinators such as bees, butterflies, hoverflies and moths are also in rapid decline. Insect-feeding small mammals and birds such as yellow wagtail, lapwing and skylark have all been impacted by the losses.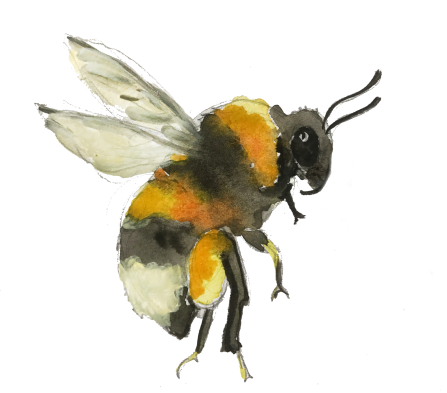 Our work
We are working hard at Cheshire Wildlife Trust to promote a better understanding of these issues and to bring back the marvellous meadows that were once commonplace in our countryside.
Read about the work we are doing to conserve meadows in our region at Swettenham and Bickley Hall Farm below.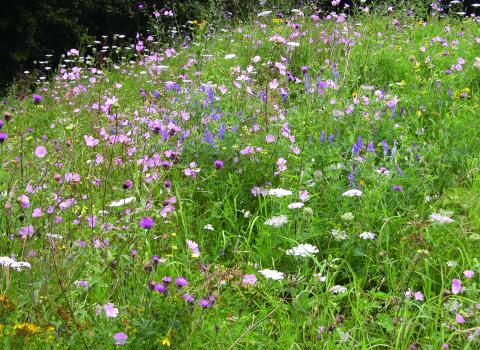 Swettenham Meadows
Situated in the Swettenham Valley, this beautiful species rich grassland is a valuable conservation feature. It supports an abundance of wildlife including 14 resident species of butterfly, barn owls and, in the surrounding hedgerows, several species of warbler.
But surrounding land use is placing greater pressure on the reserve and its inhabitants. The increased isolation of the site, within an intensively managed landscape, incentivised us to take action!
With support from the Coronation Meadows project, we took steps to restore an area of species poor grassland within the reserve using locally sourced green hay to introduce a variety of wildflower seeds. We also planted native wildlife plug plants. Alongside this, we are working with neighbouring landowners to help them undertake grassland restoration .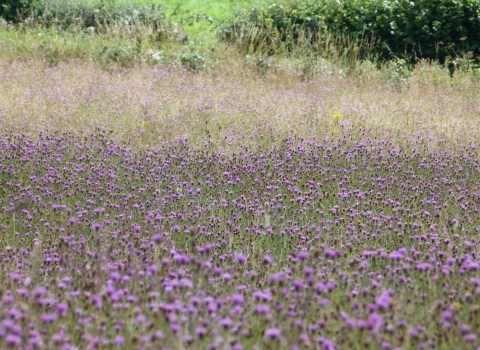 Bickley Hall Farm
We manage our own wildlife-friendly farm. A Natural England Higher Tier Countryside Stewardship Scheme,  enables us to create a bespoke set of options across the farm. Therefore, all activities are carried out with wildlife in mind.
Working with a grazing partner, our 86 hectare organic farm is home to cattle, as well as an annual crop of spring sown oats. Our species rich hay meadows allow us to make traditional winter forage for the cattle, whilst maintaining an important area for wildlife.
By cutting our meadow at the end of July each year, we give late flowering meadow plants a chance to flower and set seed. This provides pollinators with food and gives ground nesting birds the best chance of rearing their chicks. We leave 10% of our meadows uncut to provide a refuge for invertebrates.
Take action!
You can Save Our Marvellous Meadows by donating to our appeal today, supporting Cheshire Wildlife Trust including the conservation of our region's wonderful meadow habitat.
A gift of £100
could pay for a reserves officer for a day to share meadow management techniques with volunteers and landowners.