"The Wildlife Trusts play a very important part in protecting our natural heritage. I would encourage anyone who cares about wildlife to join them"
Join us today - Cheshire's wildlife needs your help
By joining, you will:
• Support wildlife – we work across the region supporting wildlife in trouble.
• Protect wild places – we care for over 30 nature reserves covering a range of habitats from woodland, mossland and coastland through to rivers, heathland and grassland.
• Bring people of all ages closer to nature – we help people engage with wildlife and explore the great outdoors.
We couldn't take action for local wildlife every day without people like you.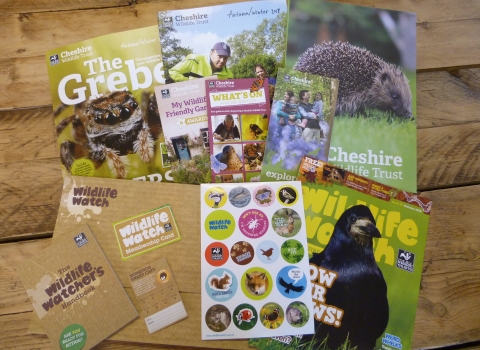 You will receive
From as little as £3.00 a month you'll receive:
A welcome pack bursting with local wildlife information and a guide to our nature reserves.
Two copies of our membership magazine, The Grebe, (March and September), as well as our Go Wild volunteer newsletter. Children also get four issues of Wildlife Watch magazine full of wildlife activities to try.
Regular e-newsletters to keep you updated.
Our 'What's On' guide.
Invites to free member-only events including a welcome event.
Opportunities to join volunteer groups to meet like-minded people.
Plus, get 15% off at Cotswold Outdoor and discounts with other partners.
Become a member
Membership Types
Individual minimum donation: £36.00 for the whole year or £3.00 per month
Joint minimum donation: £42.00 for the whole year or £3.50 per month
Family (up to four children) minimum donation: £48.00 for the whole year or £4.00 per month
With your help we can...
Care for more than 1,000 acres to provide homes for our precious wildlife
Inspire thousands of children and adults to enjoy and care about nature
Support local landowners and farmers in managing their land to benefit wildlife
Fight to save places where wildlife is threatened by development
Campaign for better protection of nature on land and in our seas