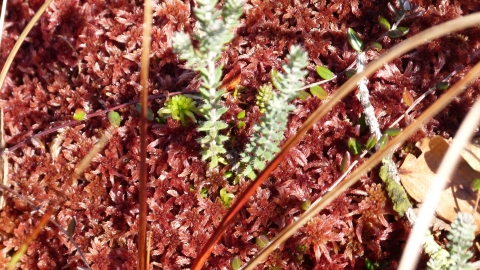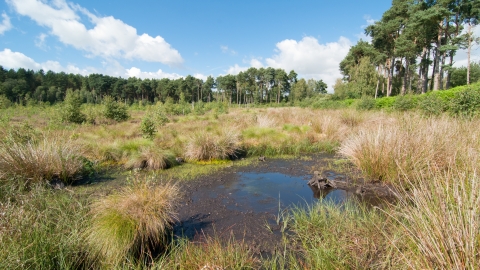 A large area of acid bog with some areas of dry heath and bog pools
Know before you go
Walking trails
Please contact the Trust; research or special group visits can be arranged on request.
Access
Sorry, this reserve is not accessible for those with limited mobility.
Dogs
Guide dogs only
Assistance dogs only
When to visit
Opening times
Access onto the reserve is restriced by permit only
Best time to visit
All year round
About the reserve
Abbots Moss, with a peat base dating from around 7000 years ago, lies surrounded by Delamere Forest. The site is a superb example of a floating 'schwingmoor' bog, and is home to a number of delicate and specialised plants and wildlife, including the carnivorous sundew. As one of the few remaining remnants of this rare habitat in Cheshire, and a habitat that is easily damaged and difficult to safely negotiate, it has restricted public access. Comprising of 12 ha across Shemmy Moss and South Moss, a mosaic of bog pools, heath, sphagnum rafts and flora provide a haven for large numbers of dragonflies including four-spotted chasers. Green hairstreak butterflies are also found at Abbots Moss. There is also an impressive list of almost 150 spiders recorded on the moss.
Habitat
Environmental designation
Special Site of Scientific Interest
In these challenging times our work will still continue to defend local wildlife
We can't do this without your support so please donate what you can.