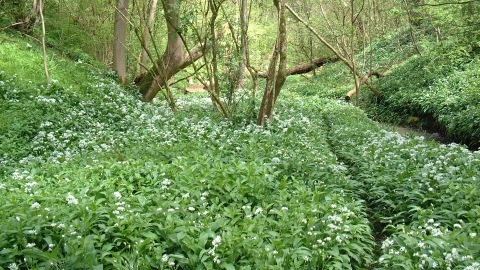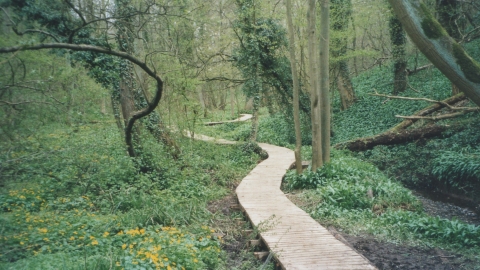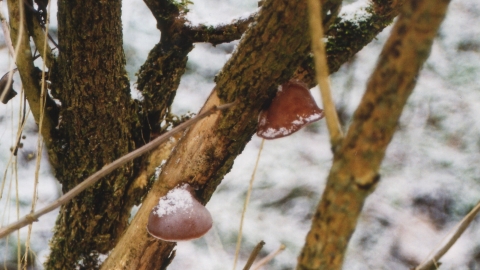 An ancient woodland with a variety of trees and flowers
Location
Know before you go
Entry fee
No
Access
No
There is no public access to this site. Look out for spring guided walks being advertised on our website.
Dogs
Guide dogs only
Assistance dogs only
When to visit
Opening times
Not open to the public
Best time to visit
Not open to the public
About the reserve
In Cheshire much of our remaining ancient woodland is in narrow, steep-sided valleys known as 'cloughs'. Cotterill Clough is one of Cheshire's best examples, and located to the west of Manchester Airport, this is one of our oldest nature reserves. It was purchased in 1934 from funds raised by public subscription for a memorial to T.A. Coward, a famous Cheshire naturalist (1867-1933).
Three distinct zones exist within the woodland. The first of these occurs on the plateau edge where the canopy is dominated by birch pedunculated oak and sycamore. As you descend down the steep valley sides this grades into ash-wych elm woodland with a staggeringly diverse ground flora that includes ramsons, dog's mercury, bluebells, wood anemone, lesser celandine and black bryony. Finally, the valley floor supports species more tolerant of the damper soil conditions including Alder and Willow species. Here the damp conditions allow ferns, mosses and liverworts to flourish alongside the flowering plants.
Regretfully, due to unsafe infrastructure and large amounts of standing deadwood that we would like to preserve, the reserve is now closed to the public.
Habitat
Environmental designation
Site of Special Scientific Interest (SSSI)
In these challenging times our work will still continue to defend local wildlife
We can't do this without your support so please donate what you can.