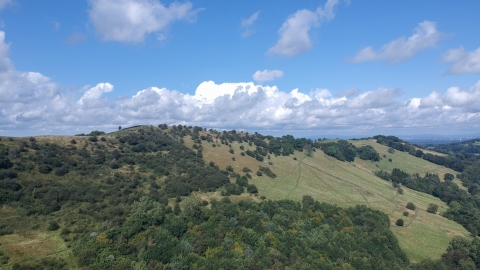 Species-rich grassland cling to the side of the ridge, from which you can walk to White Nancy and enjoy views over the Cheshire Plain.
Know before you go
Entry fee
Free
Walking trails
Please keep to public footpaths
Access
Access is along public footpaths and limited elsewhere due to steep nature of the site.
When to visit
Opening times
Open at all times
Best time to visit
June to October
About the reserve
Kerridge Hill is a wonderful example of the species-rich grassland that once covered Cheshire and the surrounding Peak District. Full of betony, devils-bit scabious and knapweed, it provides food for a wealth of pollinators and other invertebrates. Sadly, 99% of species-rich grassland in Cheshire have been destroyed, making places like Kerridge Hill significantly important to conservation efforts. With this in mind, we purchased the reserve in 2019, protecting it for future generations of naturalists and wildlife alike.
Along with the wildflowers comes those all-important pollinators. The reserve is host to 10 butterfly species, including small heath, wall brown and small skipper, as well as countless bumblebees. These in turn support a number of bird species on the site, including blackcap, chiffchaff and other summer migrants. This diversity makes the reserve a wonderful place to visit through the spring and summer months. AS Autumn rolls in, the wildflowers fade and give way to waxcap fungi. The reserve is one of the best places in the county to see this rare mushrooms, so keep an eye out for them low in the sward.
A plantation woodland at the foot of the site provides some mature tree cover for woodland specialists and add diversity to the habitats on site. Speckled wood butterflies, blue tits and tawny owls can be seen here, along with bluebells and dog violets.
The management of the site will look to enhance the grasslands, encouraging more wildflowers and waxcaps. This will include controlling the hawthorn scrub that is creeping over the site and beginning to dominate. Scattered scrub will be left to provide nesting places for birds, berries as a winter food source for small mammals and spring nectar for insects.
The network of public footpaths that cross the reserve provide the perfect chance to go and explore this site and take in the views from White Nancy; a folly at the north of the ridge built to celebrate victory at the Battle of Waterloo.
Species
Habitat
In these challenging times our work will still continue to defend local wildlife
We can't do this without your support so please donate what you can.