Spider survey at Delamere reveals two rare species
Cheshire Wildlife Trust were delighted to hear the results of a recent spider survey, carried out by the Tanyptera Trust in Delamere, which has revealed two rare spiders.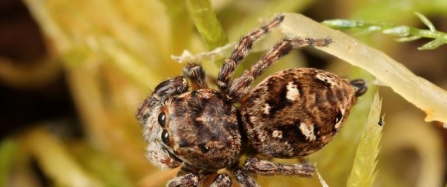 The nationally rare jumping spider, Sitticus floricola, was found at two new sites, bringing the total number of sites where this species has been recorded in Cheshire to ten. Measuring between 3.5mm and 7.5mm across this small day hunting spider uses its big eyes to judge its impressive jumps.
Another spectacular find was the rare money spider, Glyphesis cottonae, which was found at four new Delamere sites. The survey results revealed that the number of sites where this species has been recorded in Cheshire has almost doubled.
Both species live on sphagnum found in the boggy areas of Delamere Forest. The extensive restoration work carried out over the last four years, through a partnership between Cheshire Wildlife Trust and the Forestry Commission, has involved re-wetting areas of the forest to bring them back to their natural state.
The British Arachnological Society recently published their Spider Status Review in which Glyphesis cottonae was listed as vulnerable (nationally rare), and Sitticus floricola as near threatened (nationally rare).
Katie Piercy, Delamere Mossland Officer at Cheshire Wildlife Trust has been involved in the project to re-wet areas of the Forest. "Species such as these rare spiders thrive in bog habitats and that's exactly what we have been working hard to create in Delamere. The fact that the number of sites where these species are being recorded has increased mean that our work is achieving its aim of re-establishing this habitat. Dragonflies and plant species have also benefited and we have been able to record significant differences in the variety of species now using the sites."
This habitat restoration project won a CIEEM (Chartered Institute of Ecology and Environmental Management) Best Practice Award this year. The work is supported by Natural England, WREN's FCC Biodiversity Action Fund, the British Dragonfly Society and Cheshire West and Chester Council.