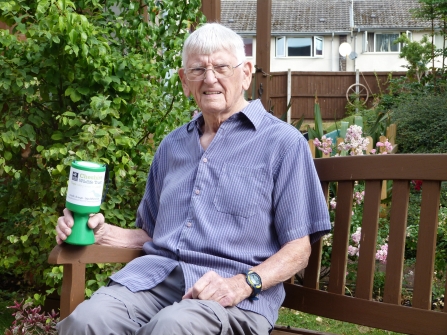 John Harvey, from Crewe, has been raising money at the bistro at Belong Crewe for the last six years. Since he moved in he has raised nearly £200 through organising the collection box at his residence.
As an avid bird lover he has also helped to bring nature to the wildlife-friendly garden at the Care Village, through regularly topping up its bird feeders. The accessible garden has achieved the Trust's Wildlife-friendly Garden Scheme award by being packed full of plants that the bees and butterflies love, as well as shrubs and trees that birds can use for shelter.
"I love visiting places throughout the region to bird watch," said John Harvey. "I've recently seen spoonbills, all the egrets and a purple heron. The number of birds coming to our feeders here is growing and it's a delight to introduce people to them. Although I've been a member of Cheshire Wildlife Trust for a long time, I wasn't able to commit the time to volunteering. Now, through feeding the birds here and organising this collection box – I know I am helping wildlife in small ways which really make a difference."
Cheshire Wildlife Trust manages around 40 nature reserves, works to protect species under threat and inspires thousands of people each year to get close to wildlife. "Our work wouldn't be possible without the dedication of our members and supporters," explained Jo Darlington, Director of Fundraising and Communications. "As the voice for wildlife in this region we are continually campaigning for its protection, as well as providing support to increase the habitats needed. Every action for wildlife that people are able to make all adds up to help our threatened species whether this is supporting wildlife in their garden or fundraising for the Trust."
Anyone wishing to support Cheshire Wildlife Trust by volunteering, becoming a member or fundraising should visit their website pages or call 01948 820728 or email info@cheshirewt.org.