Wirral Wildlife presented with Queen's Award for Voluntary Service
Wirral Wildlife, a local volunteer group of Cheshire Wildlife Trust, received their Queen's Award for Voluntary Service this month.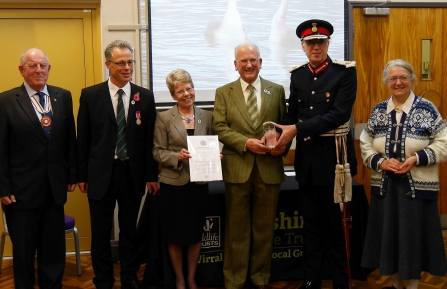 A special ceremony was held at Heswall Hall, where the group were presented their award by Her Majesty's Lord-Lieutenant of Merseyside, Mr Mark Blundell. The committee were proud to accept the award on behalf of the hundreds of volunteers who have worked together as Wirral Wildlife since the group was founded in 1971.
To celebrate their award win, the group took part in a special tree planting session at Dibbinsdale Local Nature Reserve, near Bromborough. Wirral Council Ranger, Alan Smail, and the Friends of Dibbinsdale group organised for the volunteer group to plant a small leaved lime, an oak and a wild pear, which had been grown from a seed from a tree at Willaston.
The award was created by The Queen in 2002 to mark the occasion of her Golden Jubilee and recognises excellence in voluntary activities carried out by community groups. It is often described as an MBE for volunteer groups.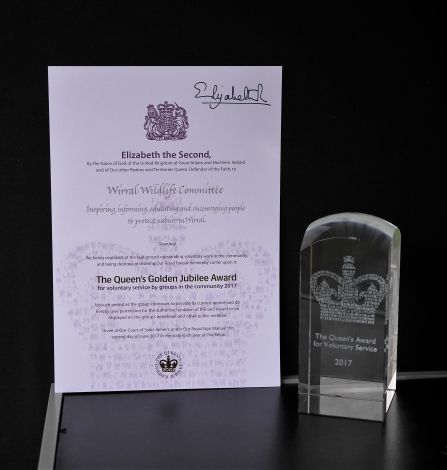 Wirral Wildlife were established over 40 years ago, with the protection and promotion of wildlife in the Wirral as their aim. Cheshire Wildlife Trust nominated the group to receive the award, based on the group's dedication and record of achievements. Sarah Bennett, Area Manager West, at Cheshire Wildlife Trust attended the ceremony. "Wirral Wildlife attracts volunteers of all ages and ecological experience'" she said. They are a fantastic champion of wildlife in the area. Volunteers are the lifeblood of our organisation, without their dedication, we would not be able to achieve the same impact in the region. This award is very much deserved."
The group undertakes a variety of activities to support the work of Cheshire Wildlife Trust from organising events to carrying out habitat management and wildlife surveys across the Trust's nature reserves including Cleaver Heath Nature Reserve in Heswall, New Ferry Butterfly Park, and Red Rocks Marsh in West Kirby.
As part of receiving the award, representatives from Wirral Wildlife attended a Royal Garden Party and now have an English Crystal award and a signed certificate from Her Majesty The Queen.