99% of our region's meadows have been lost in just 60 years - we had to act!
We have set ourselves the ambitious target of restore 100 ha of species rich grassland over the next 10 years.
The beginning
In 2016, we started a project to restore meadow habitats at our Swettenham Meadows nature reserve, with support from the national Coronation Meadows scheme. There is already a marked difference in the diversity of plant species following this work, of which the fourteen resident butterfly species that have been recorded on site, will likely benefit.
Dane-in-Shaw Pasture, in Congleton was used as the seed donor site by the Trust to establish its restored meadow at Swettenham. This site was chosen not only because it is a designated Coronation Meadow site, but also because through using locally sourced seed the Trust could help conserve the local gene pool of the wildflower population. Seed was also taken from this site to be grown on as plug plants. These were grown on and planted in the Autumn at Swettenham to further diversify the meadow.
We are now working with landowners in the surrounding area to develop additional meadows creating new habitat and natural stepping stones for wildlife.
Bickley Hall Farm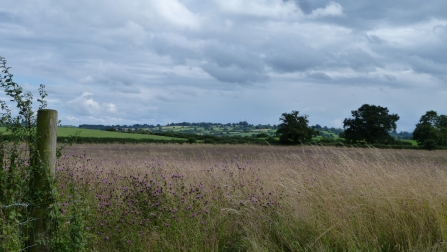 We run our headquarters at Bickley Hall Farm, as an organic wildlife-friendly farm with its own meadows.
Here, the meadows are cut at the end of July each year, to give late flowering meadow plants a chance to grow, flower and set seed. This provides pollinators with food throughout the spring and summer and gives ground nesting birds the best chance possible of rearing their chicks. A tenth of each meadow is also left uncut to provide a refuge for invertebrates. After cutting, the meadows are grazed by cattle, which helps prevent dominant, competitive plant species taking over.
In 2017, we created a new 12-acre hay meadow at Bickley Hall Farm, using seed collected from our existing meadows.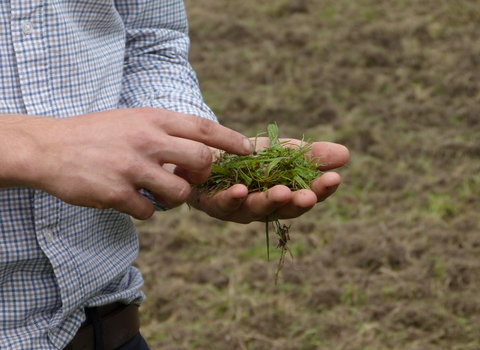 Grassland restoration
Are you a landowner? Are you interesting in having more wildlife where you live? Would you like to help us achieve our target of creating 100ha of new species rich grassland?
Our countryside team has the skills and experience to create restore or recreate new grassland habitat and we would be happy to visit you and talk to you about what might be possible on your land.
To take advantage of this service contact Joe Pimblett on 01948 820728.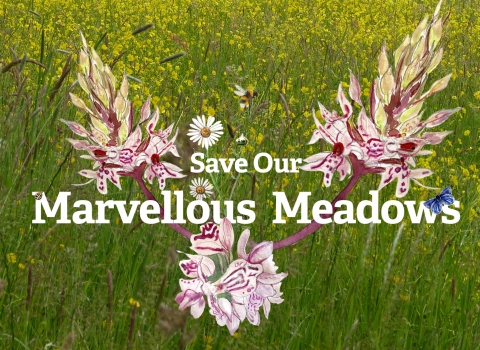 Our appeal
To date we have raised nearly £12,000, which will help us continue to restore species-rich grassland in Cheshire - can you help?
Donate