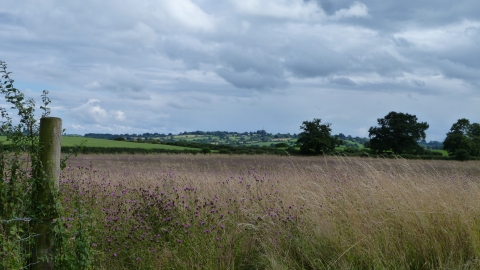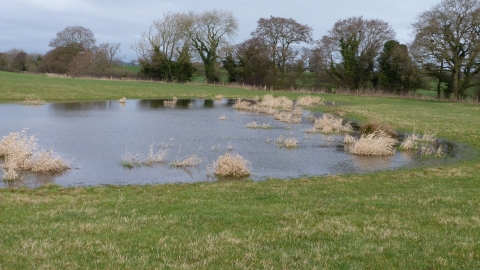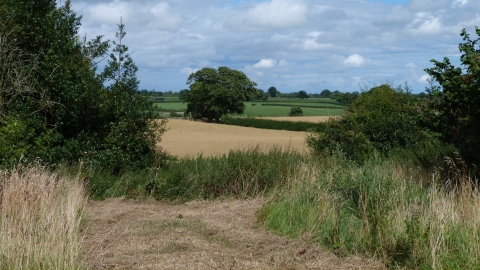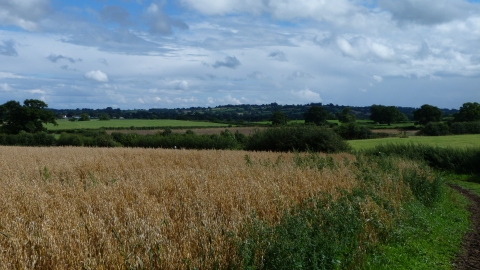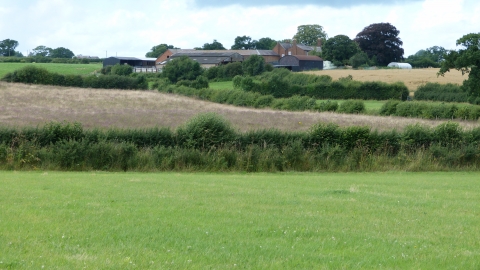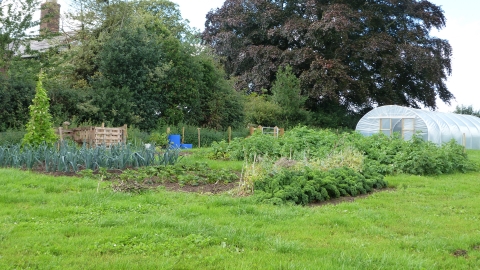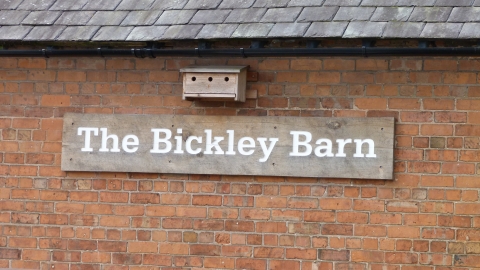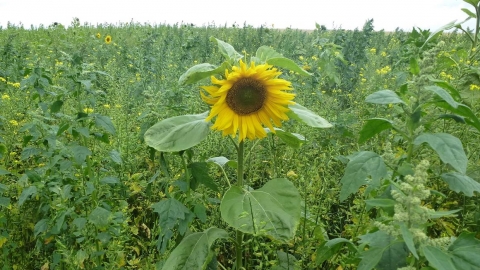 Bickley Hall Farm is a 210-acre (86ha) organic working farm located just outside Malpas in the heart of rural Cheshire. As the HQ of Cheshire Wildlife Trust the farm has a dedicated nature trail leading off the popular Sandstone Trail walking route.
Know before you go
Entry fee
No
Parking information
Yes
Grazing animals
Yes
Walking trails
The farm has a dedicated nature trail leading off the popular Sandstone Trail walking route. See below to look at the map or to download it.
Access
Contact the Trust for more details.
When to visit
Opening times
Sandstone Trail walking route accessible all year round.

Parking, toilets and other routes only available Monday - Friday, 10am - 3pm, please contact the Trust for details.
Best time to visit
All year
About the reserve
As part of a wildlife-friendly farm management regime supported by Natural England's Countryside Stewardship Scheme our species-rich hay meadows and pastures along with their flower rich margins and wild bird seed plots, bordered by diverse hedgerows are great for invertebrates, small mammals and in particular, hundreds of feeding farmland birds in autumn and winter.
Our fields of spring sown cereals with overwintered stubbles host hundreds of finches and other seed eating birds and our mosaic of wet meadows, intersected by a network of ditches and scattered ponds are managed specifically for wintering and breeding wading birds.
Bickley Hall Farm is managed by Cheshire Wildlife Trust as an organic, wildlife friendly farm in partnership with a local grazier. The Trust has overall management of the farm and all its wildlife friendly features, including the hay meadows, the wet grassland, the floristically enhanced margins, the wild bird seed crops, the ponds, the hedgerows, etc. Our grazing partner provides the cattle for the Trust to manage the farm and grows a spring sown cereal in locations determined by the Trust.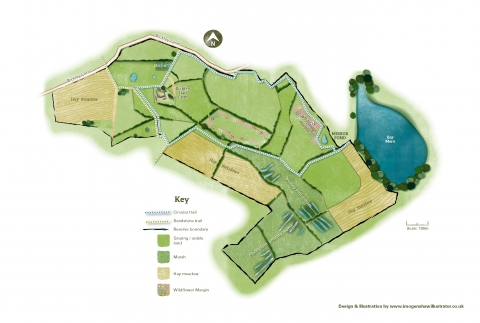 We've recently installed a trail around Bickley Hall Farm so that you can see all the wonderful sights, without too much disruption to the wildlife or farm.
Species recorded on the farm
We are always looking for new species on the farm to see what our wildlife friendly management is attracting.
Spot something new on a visit to Bickley Hall Farm? Do let us know when and where you saw it.
Birds

| Species | Conservation status on the farm |
| --- | --- |
| Pink-footed Goose | on fields near Bar Mere - winter |
| Greylag Goose | on fields near Bar Mere |
| Canada Goose | on fields near Bar Mere |
| Wigeon | on fields near Bar Mere - winter |
| Teal | on fields near Bar Mere - winter |
| Mallard | on fields near Bar Mere - winter |
| Red-legged Partridge | few records |
| Grey Partridge | rare resident |
| Quail | rare summer |
| Pheasant | common resident |
| Grey Heron | occasional |
| Osprey | one record |
| Red Kite | occasional fly-overs |
| Sparrowhawk | scarce resident |
| Buzzard | common resident |
| Kestrel | scarce resident |
| Merlin | occasional winter |
| Hobby | few annual records |
| Peregrine | few annual records |
| Water Rail | one record but annual Bar Mere |
| Moorhen | common resident |
| Coot | scarce resident |
| Common Crane | one record: two birds spring 2012 |
| Little Ringed Plover | one record: two birds August 2018 |
| Lapwing | scarce breeder - common winter |
| Curlew | occasional |
| Green Sandpiper | occasional winter |
| Common Redshank | one record |
| Jack Snipe | Scarce winter |
| Snipe | common winter |
| Black-headed Gull | occasional winter |
| Common Gull | occasional winter |
| Lesser Black-backed Gull | occasional winter |
| Feral Pigeon (Rock Dove) | common resident |
| Stock Dove | fairly commom arable fileds |
| Woodpigeon | common resident |
| Collared Dove | occasional |
| Cuckoo | now scarce summer |
| Barn Owl | one to two pairs breed |
| Tawny Owl | occasional sightings |
| Short-eared Owl | three winter records |
| Little Owl | scarce resident |
| Swift | uncommon summer |
| Great Spotted Woodpecker | common resident |
| Magpie | common resident |
| Jay | common resident |
| Jackdaw | common resident |
| Rook | common resident |
| Carrion Crow | common resident |
| Raven | scarce - now more common |
| Goldcrest | scarce resident |
| Blue Tit | common resident |
| Great Tit | common resident |
| Coal Tit | scarce resident |
| Skylark | common resident |
| Sand Martin | occasional passage |
| Swallow | common summer |
| House Martin | scarce summer |
| Long-tailed Tit | common resident |
| Chiffchaff | common summer |
| Willow Warbler | occasional summer & passage |
| Grasshopper Warbler | rare summer |
| Blackcap | common summer |
| Lesser Whitethroat | scarce summer |
| Whitethroat | common summer |
| Sedge Warbler | scarce summer |
| Nuthatch | scarce resident |
| Treecreeper | scarce resident |
| Wren | common resident |
| Starling | scarce breeder - common winter |
| Ring Ouzel | scarce passage migrant |
| Blackbird | common resident |
| Fieldfare | common winter |
| Song Thrush | common resident |
| Redwing | common winter |
| Mistle Thrush | scarce resident |
| Robin | common resident |
| Redstart | occasional passage |
| Whinchat | regular passage small numbers |
| Stonechat | regular winter |
| Wheatear | regular passage large numbers |
| Dunnock | common resident |
| House Sparrow | common resident |
| Tree Sparrow | scarce breeder - common winter |
| Yellow Wagtail | scarce summer |
| Pied Wagtail | common small numbers |
| Tree Pipit | scarce passage migrant |
| Meadow Pipit | common winter: passage |
| Chaffinch | common resident |
| Brambling | regular winter |
| Greenfinch | uncommon resident |
| Goldfinch | common resident |
| Linnet | common resident |
| Lesser Redpoll | scarce resident - mainly winter |
| Bullfinch | scarce resident |
| Yellowhammer | scarce resident |
| Reed Bunting | common resident |

 
Butterflies

| Species | Conservation status on the farm |
| --- | --- |
| Small Skipper | Abundant |
| Large Skipper | Common |
| Brimstone | Few records |
| Large White | Common |
| Small White | Abundant |
| Green-veined White | Abundant |
| Orange Tip | Common |
| Small Copper | Common |
| Common Blue | Common: small numbers |
| Holly Blue | Few records |
| Red Admiral | Common |
| Painted Lady | Annual: sometimes large numbers |
| Small Tortoiseshell | Abundant |
| Peacock | Abundant |
| Comma | Common |
| Speckled Wood | Common |
| Gatekeeper | Abundant |
| Meadow Brown | Abundant |
| Ringlet | Common: increasing |
Dragonflies

| Species | Conservation status on the farm |
| --- | --- |
| Emerald Damselfly | Common in all ponds |
| Large Red Damselfly | Common in all ponds |
| Azure Damselfly | Common in all ponds |
| Common Blue Damselfly | Common in all ponds |
| Blue-tailed Damselfly | Common in all ponds |
| Red-eyed Damselfly | Common: field next to Bar Mere |
| Hairy Dragonfly | Scarce: field next to Bar Mere |
| Migrant Hawker | Common   |
| Southern Hawker | Common   |
| Brown Hawker | Common   |
| Emperor | Common in all ponds |
| Golden-ringed Dragonfly | One record |
| Four-spotted Chaser | Common in all ponds |
| Broad-bodied Chaser | Scarce: all ponds |
| Black-tailed Skimmer | Scarce: field next to Bar Mere |
| Common Darter | Common in all ponds |
| Ruddy Darter | Common in all ponds |
| Banded Demoiselle | male 22/7/19 |