Restoring 100 ha in 10 years
Grassland is amongst the rarest habitats in Cheshire. It can easily be lost when a landowner plough up his field, or when a new housing estate in build. Not surprising then that almost 99% of grasslands across the county have disappeared as agriculture has intensified, development has increased and traditional management skills have been forgotten.
There are several different types of grassland each with a distinctive wildlife.
Go up into the Cheshire Peak District and you'll find acid grassland. The poor soils grow fine-leaved grasses like red and sheep's fescues and common bent grow, alongside wild flowers like sheep's sorrel, heath bedstraw and pretty blue harebells.
Commonest on the clays and silty soils of lowland Cheshire, is neutral grassland filled with green-winged orchids, pepper saxifrage and adder's-tongue fern. The unforgettable song of the skylark fills the air and butterflies like common blue and meadow brown dance from flower to flower.
We work to protect our few remaining grassland sites by helping planners and developers see their value and prevent damaging change happening to them. We are also working with landowners to create new meadows, bring more colour and life to our countryside.
We have set ourselves the ambitious target of restore 100 ha of species rich grassland over the next 10 years.
Our reserves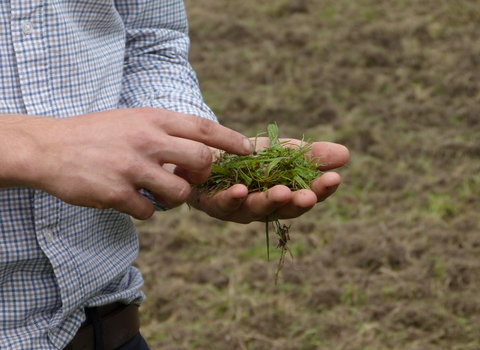 Grassland restoration
Are you a landowner? Are you interesting in having more wildlife where you live? Would you like to help us achieve our target of creating 100ha of new species rich grassland?
Our countryside team has the skills and experience to create restore or recreate new grassland habitat and we would be happy to visit you and talk to you about what might be possible on your land.
To take advantage of this service contact Joe Pimblett on 01948 820728.
Our wildlife
Our news