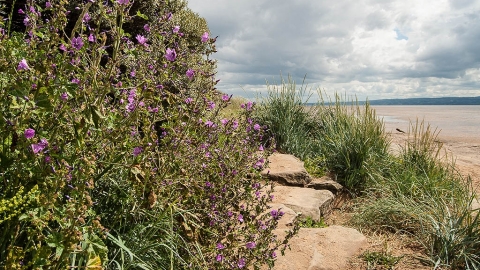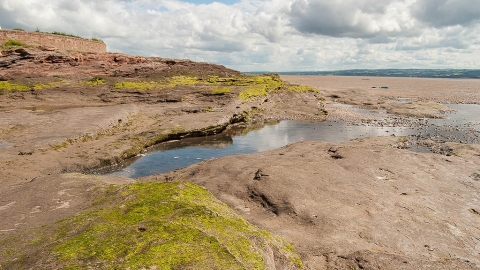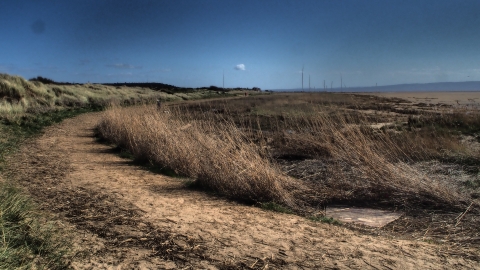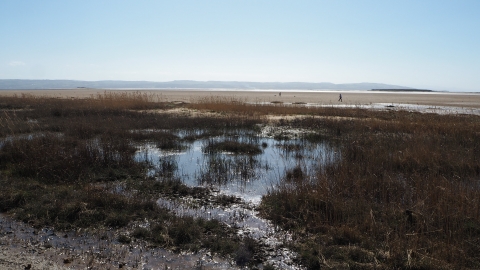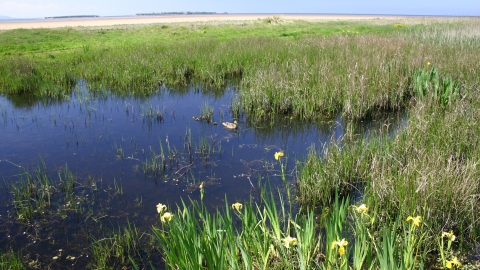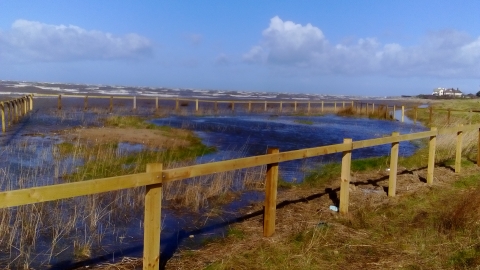 Our only coastal reserve, consisting of sand dunes, reedbeds and marsh.
Location
Know before you go
Entry fee
No
Walking trails
Please keep to foreshore and marked paths and do not enter the reedbeds.
Access
Sorry, parts of this site may not be suitable for those with limited mobility.
When to visit
Opening times
Open at all times
Best time to visit
All year
About the reserve
This SSSI reserve lies on the edge of the extensive Dee Estuary, looking out towards Hilbre Island, and just a short walk from Hoylake or West Kirby. Consisting of an important range of sand dunes from embryo dunes against the sea to much more established yellow dunes behind, and then on to grey dunes that extend on to The Royal Liverpool Golf Course. As with all dune systems, specialised plants that can survive in dry sandy conditions grow in the dips (slacks) including Mackays horsetail, one of more than 50 flora species found on the reserve. Orchids include early marsh and northern marsh, whilst birds-foot trefoil, sticky stork's bill and fairly flax also bring colour. In the slacks behind the embryo dunes small brackish pools are home to Natterjack toads, known for their loud vocal calls in the breeding season. The reserve and surrounding area is a well-known stopping point for migratory birds in spring and autumn, with regular visitors like redstarts, ring ouzels and wheatears joined by spectacular occasional rarities like bee eaters, shrikes and wintering snow and lapland buntings. Habitat Management at Red Rocks    
Species
Environmental designation
Site of Special Scientific Interest (SSSI)
Hoylake Beach - Grass or not?

Natural England have now issued new guidance with regards to Hoylake shore which is much more in favour of allowing natural processes. Wirral Wildlife have also talked to Dr Alan Jemmett (now head of Merseyside Environmental Advisory Service but formerly Dee estuary Coordinator), Dr David Parker (former Head of Science for Countryside Council Wales and an expert local birder), Graham Jones (RSPB Dee Estuary warden) and coastal geomorphologist Dr Paul Rooney, of Liverpool Hope University and the UK Sand and Shingle Network. Alan, David and Graham live in Wirral, Paul regularly uses Hoylake shore to teach students about coastal change. All of us met with Councillors and Wirral BC officers to discuss this in autumn 2019, and Alan and David subsequently gave expert witness to an internal WBC meeting.

The background:

During the last Ice Age, Wirral was under a thick layer of ice, which gouged out the Dee Estuary much larger than the river needs, and pressed down our bit of the earth's crust. Since the ice melted about 10,000 years ago, the Dee Estuary has been slowly filling up with sediment, as the river is too small to wash it out. The sediment (sand and mud) comes mostly from the sea, by longshore drift along the North Wales coast. Sea levels have fluctuated widely in that time and are currently rising as a result of increasing sea temperatures. Our bit of crust is slowly coming up again since the weight of ice was removed, so the net sea level rise at Liverpool is currently about 5mm pa - which does not sound much until it is looked at over a century or so. Our coasts are dynamic places, always changing. Our society's problem is what we do about that change. For the last century many coasts have been "frozen" in place by coastal defences. Can and should this be continued?

To help answer this, the national government has put in place a "Shoreline Management Plan", about which there were local public meetings in 2012. Dr Rooney tells us that there has been a "tectonic change" in knowledge of coastal processes in the last 20 years - but we still cannot accurately predict the future from the past.

So what about Hoylake? The SMP decision for North Wirral is to "hold the line" i.e. maintain the existing hard defences for at least 50 years. After that defences may be removed at Leasowe Bay and natural sand dunes encouraged to take over. The SMP principle is to work with nature - but Liverpool Bay is not entirely natural, being affected by the canalisation of the Dee and Mersey and the dredging for the Liverpool Port approaches. At Hoylake, energy of the water and sediment supply are key. The Hoyle Lake is now full of sediment. Hilbre and the East Hoyle Bank break some of the energy of the waves, tides and currents. So sand/mud is being deposited on Hoylake beach, raising its levels, and the colonisation by salt marsh and sand dune plants is the result. An on-going study by an expert professional botanist has so far (by autumn 2020) recorded over 70 specialist plant species, including eleven rare and unusual ones – it is not all cord-grass by any means. Plants colonise when the beach reaches the correct level with regards to the tides for their needs. Which is why every time the vegetation has bene sprayed/scrape doff, it returns in increasing amounts.

At Parkgate, well up the Dee where energy levels are much less, mud was deposited, leading to permanent salt marsh. At Red Rocks, at the end of the Dee, where our reserve has been allowed to develop fairly naturally for the last twenty years, a new salt marsh, reed-marsh and sand-dune line have formed and are still increasing. These have been colonised by a range of plants, at least one rare moth (sandhill rustic) and the natterjack toads. West Kirby beach is kept clear of plants by mechanical methods. In Sefton, all the way from Birkdale to Marshside, coastal accretion has formed new habitats, except where the Southport amenity beach is kept clear. 

In 2000, a report by Dr Alan Jemmett (when Dee Estuary Conservation Officer) looked at the Hoylake foreshore and did a report to Wirral BC, which judged the continued removal of vegetation to be "unsustainable" on ecological and financial grounds, and recommended various trials to see what would happen if the management was changed. These were not carried out for "financial reasons". Natural England opinion (see guidance) is that at Hoylake the balance would be more towards sand dune than salt marsh, but detailed studies are needed to test this.

North Wirral foreshore is internationally important for wintering birds, with many thousands there this year. How would development of salt marsh and sand dune affect them? Developing saltmarsh and sand dune would slightly reduce the feeding ground for the waders, which need inter-tidal mud and sand. The RSPB does not think the loss is significant, given the amount of inter-tidal habitat available. The new salt marsh and sand dune could increase roosting places at high tide (roosting areas are in short supply round the Dee because of urban development), and increase feeding areas for wildfowl. However the new areas, being right by the shore, would be at risk from disturbance by people and their dogs and horses. 

The current agreement between Natural England and WMBC runs out shortly. Since the last agreement, the realities of the climate and ecological emergencies have been finally accepted by most of society, resulting in local and national declarations and action plans. In the last few years, new evidence on the effects of glyphosate on non-target species have shown that it has deleterious effects on invertebrates, including those in the beach sediments. These invertebrates are the food supply for the wintering birds. Natural England's guidance is now in favour of letting nature take its course (see their guidance to Wirral BC), with the possibility of limited mechanical removal of vegetation, after ecological survey and for well-justified reasons. Herbicide use `is unlikely to be supported' because of effects on invertebrates in the sediments.

Money is tight - is the money best spent trying to keep generally open sands and removing sand from roads and drains, or could it be used to manage the natural accretion, e.g. to keep open sand where an amenity beach is needed and access for RNLI and Hoylake Sailing Club? What affect would salt marsh and sand dune have on visitors and residents using the beach? Wirral BC has at long last agreed to have a proper scientific investigation done, as Dr Jemmett recommended two decades back, to try to determine what would develop naturally on this beach.

Look ahead 50-100 years. Rising sea level may eventually wash away whatever accretion has happened. Marsh/dunes would protect the sea wall until the sediment is washed away. What would people living here in a century want us to do?

For all these reasons, Wirral Wildlife and Cheshire Wildlife Trust would be in favour of allowing nature to take its course on Hoylake shore, but are prepared to consider the possibility of maintaining one or more amenity beaches free of vegetation, as is done at West Kirby and Southport.
 
In these challenging times our work will still continue to defend local wildlife
We can't do this without your support so please donate what you can.