We're bringing beavers back to Cheshire after 400 years, but we need your help!
Hatchmere's precious wetlands are dying, but beavers can help save these special habitats!
As part of a five-year 'nature-led' project, a pair of beavers have been released into a 4.5 hectare enclosure to save and restore the wetland ecosystem at Hatchmere Nature Reserve.
Our amazing supporters helped us raise the £30,000 needed for the enclosure and on Monday 2nd November 2020, a male and female beaver were released at Hatchmere.
Your donation will help bring beavers back to Cheshire
But the work doesn't stop there – there's a big job still to do. If you'd like to be part of this exciting project to bring beavers back to Cheshire, we  need your help.
This is a five-year project which hopes to see:
Hatchmere's precious wetlands restored by beavers.  
We need to look after the beavers and carefully monitor the effects that they have on Hatch Mere lake and the surrounding habitats. We will be working with local universities and beaver experts to help us with this work.
There will be regular checks on the enclosure and the health of the beavers.
We'll be checking the quality of the water and monitoring other wildlife at Hatchmere including breeding birds, bats, aquatic invertebrates and the rare plants and mosses that make this site so special.
We will also be running regular events so that we can share the work that beavers are doing on site.
What's the cost?
It will cost us £17,000 each year (that's a total cost of £85,000) to look after the beavers and to monitor the effects they're having on Hatchmere's wetlands.    
We have every hope that this exciting five-year project will pave the way for further beaver reintroductions in Cheshire and across the UK!

We're really excited to be bringing beavers back to Cheshire after being absent from our waterways for so long. Beavers are a natural and sustainable solution to managing habitats. We spend a lot of time and managing sites for nature, which beavers do better and cheaper. The beavers will be a huge benefit to Delamere.

Hatchmere Living Landscape Officer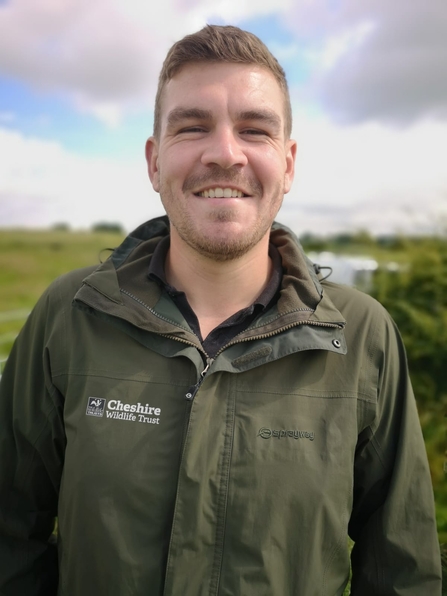 Your donation will help bring beavers back to Cheshire
Please join us on this exciting journey to bring beavers back to Cheshire for good.
Make a donation today and we'll bring you regular updates on the Hatchmere beavers as they settle into their new home and. hopefully, rear their first  beaver kits  here next year.
Thank you so much for caring about your local natural landscapes and wildlife as much as we do.
Why Hatchmere Nature Reserve?

Man-made problems are destroying rare habitats at Hatchmere Nature Reserve, and killing aquatic life in the wetlands and in Hatch Mere lake.
Peat bogs are delicate habitats which need nutrient-poor water. But the brook flowing into the site has become far too rich and nutrient-packed, so the peat bog plants and animals are losing their fight for survival.
Invasive species like nettles and bramble are thriving on the rich water supply – reducing sunlight and accelerating the loss of peat bog life.
Why beavers?

Beavers are nature's finest 'wetland engineers', driven by instinct and the relentless desire to create their ideal breeding grounds.
Beaver dams would raise water levels across the meadows downstream, turning them into a giant water filter. That means purer water for Hatch Mere, which in turn flows out to the River Weaver, on its way to the Mersey and finally the sea.
By removing trees and creating standing deadwood, the beavers allow more light to reach the woodland floor. This, along with their digging activities, creates ideal conditions for insects to thrive, in turn attracting a variety of native mammals and birds.
The pools help settle river-borne sediment, which keeps the downstream water cleaner…creating ideal conditions for fish to spawn.
Cleaner water will then flow out into the neighbouring SSSI – so Hatch Mere and its surrounding peat bog habitats can at last begin to recover.
How much have we raised so far?

We've reached our £30,000 target! Check back here for updates on our running total.
Find out more